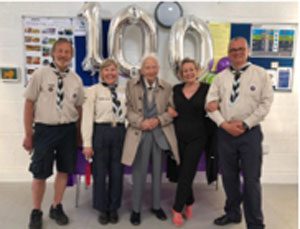 1st Sunbury Scout Group celebrated the Centenary of 1st Sunbury Cubs on Sunday 12th May at their Scout HQ on School Walk, Sunbury. The event was open to all associated with 1st Sunbury Scout Group and over 150 current and former members enjoyed the glorious May sunshine for an afternoon tea and games.
Guest of honour was former 1st Sunbury Cub and local legend, Mr Dennis Brock, who celebrated his own Centenary last year. Mr Brock cut the celebratory cake and was presented with a magnificent beech tree to mark the occasion, kindly
supplied by the Spelthorne Tree Wardens.
The Chairperson for 1st Sunbury Scout Group, Mrs Belinda Thornton-Bunn, commented that it was a delight to have the current leaders and children celebrate with so many former 1st Sunbury leaders and families "It has been a very special day, celebrated by so many, it is a testament to the community spirit and life-values we cultivate in the scouting movement that so many have joined in with the centenary celebrations".
Several key Scouting awards were presented to the group's young people by both Mrs Suzy Webb (President Spelthorne Scouts) and Mr Brock.
Congratulations to all who collected their Chief Scout Silver Award!
What do Scouts Do?
Adventure is at the heart of everything we do. It is the single most important thing that sets Scouts apart. Scouting can give children more confidence, responsibility and a broader set of friends. Scouting can help develop your child's social skills and encourage self-sufficiency, and gives them access to activities and opportunities that may have been otherwise unavailable to them.
The Scouting website explains further that a 2018 report says Scouts are 17% more likely to show leadership skills and work well in teams. They're a third more likely to support their communities too.
1st Sunbury Scout Group contributes to a variety of local community events such as the Father Christmas Sleigh street collection and various litter picks (including at the annual Sunbury Regatta). The group also runs the helmet store at the regular Sunbury Motorcycle Jumble at Kempton Park and is currently helping to raise funds towards the repair of the damaged bell at St Mary's Church through its Cubs Centenary Collection.
Scouting in Spelthorne is popular and like many other groups, there is currently a waiting list of eager would-be Beavers, Cubs and Scouts at 1st Sunbury Scout Group. The group is run entirely by volunteers, who are currently stretched to capacity. More leaders and assistants are urgently required to enable more children to experience the adventure of Scouting.
If you would like to know more about becoming a leader, helping in the local Scouting movement or contributing to the 1st Sunbury Cubs Centenary Collection for the bells at St Mary's, please contact 1st Sunbury Scout Group on: 1stSunburyCubs100@gmail.com.