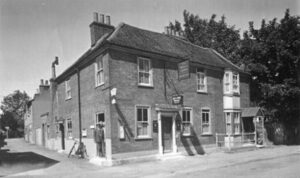 With the completion of its conversion into two cottages, the latest chapter in the story of the former Rose and Crown pub has been written.
Located in Church Road, Shepperton, just at the junction with Cemetery Lane, the Rose and Crown was originally a private house, built in the 18th century. In an indenture of sale dated 25th March 1789, John Lambert put the building up for sale in four lots (although it had been one dwelling). The document indicated that the property may date back to 1717.
The earliest evidence for it being a pub is much later however, as the first mention of a licensee is George Kittle in 1871. It was a beerhouse, i.e. licensed to sell only beer and cider. This was distinct from a public house, which had a full licence allowing it to sell wines and spirits as well.
The building was still divided, with a separate cottage on the right hand side, as can be seen in the above picture, which dates from the early 1940s. Some of the regulars can be seen posing for the photographer at the side doorway. The second door in Cemetery Lane led to a small private bar, but beyond that the buildings are a row of cottages, which have long since disappeared.
At the time of this photo, the Rose and Crown was owned by Hodgson's Kingston Brewery (whose name can be seen on the pub sign). Hodgson's had acquired it from the Winch family in 1900. The pub was described in a valuation survey a few years later as having a bar, bar parlour, tap room, kitchen and scullery on the ground floor, above a small cellar, with four bedrooms and a club room (available to hire to local groups) upstairs. In 1943, the brewery was taken over and the pub became part of the Courage empire.
In 1988 the pub closed, and became 'Edwinns' restaurant for many years. After Edwinns closed, the restaurant was renamed Castello, before that in turn closed, and the building was sold to a developer, who has sympathetically converted it to housing.
For further details see The History of Shepperton's Pubs by Nick and Sue Pollard.
'The History of Punting in Sunbury and Shepperton' by Peter Williams is the subject of the next meeting of the Sunbury and Shepperton Local History Society. The meeting takes place on Tuesday 21st May at Halliford School in Russell Road, starting at 8pm. All welcome, admission £2 for non-members.