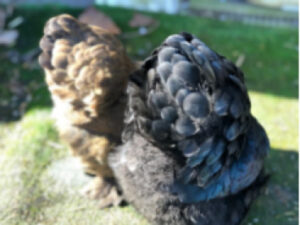 Charlotte's Chickens were winners of the Best Independent Business award at the inaugural Spelthorne Business Awards last autumn. Having been at the event and seen them win, we went along to meet Sarah and Paul New who run the family business to hear more about the joys of owning a chicken.
"It is the only pet that will save you money," said Paul New with a smile.
These days, when knowing where your food comes from is increasingly important, chickens have become popular with households. It evokes the simple pleasures portrayed in 1980's sitcom, The Good Life.
Charlotte's Chickens has been running for 10 years as the only independent supplier of chickens in the area. It is very much a family business. When daughter Maria (second name, Charlotte) was a youngster wanting a paper round, father Paul thought he would set her the task instead of selling eggs and chickens to locals, after the family acquired their own (which they had to get from Oxford). He was astounded at her success and quickly realised there was a gap in the market.
Sarah was at the stage of life when a change of career beckoned so she grew the business, getting chickens in at 16 weeks, just before point of lay and selling them on. There are many different types of chickens. The trusty old brown hen will cost you £17 and typically lay an egg a day for 3 years or so.
If you want hybrids for egg laying they range from £17-£25 or pure breed bantam chickens, they are from £35 to £45 per bird, but although they live longer, they do not lay as reliably so you may be getting an egg 4 times a week. They are indeed very pretty! We were very taken with the two little bantam hens who had been hatched and raised by the News and were real characters.
Over 10 years the News have sold over 10,000 chickens. Local schools have found them a draw. The children can get involved in raising the birds and understand how to care for an animal. What a brilliant idea. You can also get feed, coops, bedding and a whole lot of advice and on top of that the News run chicken keeping courses, chicken sitting and sell eggs.
So, why not get in touch with this award winning local company and let chickens into your life?
Charlotte's Chickens
www.charlotteschickens.co.uk
Tel 07747 166408