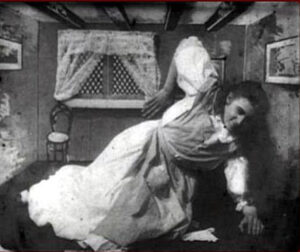 Between 1900 and 1908, Sunbury born May Clark became a star in many of the earliest silent films that were made at the Walton on Thames studios of the pioneer film maker Cecil Hepworth.
Mabel (May) Clark was born in Sunbury on 1st June 1885 and almost certainly at the 'Ferry House', 72 Thames Street, where her parents, William Clark and Louisa, were known to be living at the time of their marriage in January 1884.
William Clark was a boat builder at the Ferry boatyard and also at Clark Bros. boatyard situated directly opposite on the Walton bank of the Thames. Census returns show that by 1891, William, Louisa and family had moved and were living in Walton on Thames at Thames Street and by 1901 at Chapel Street. Both roads were close to Hepworth's studio which had opened in 1899 at a Victorian villa 'The Rosary' in Hurst Grove, Walton. (Today, Hepworth Way acknowledges the original location of the studio).
May began employment at the studio in 1900 at the age of 15. With a starting wage of just 7s/6d per week, she built sets, gathered props, sewed costumes and eventually gained the necessary skills to develop and print films which had been shot earlier in the day. As Hepworth employed no professional actors until 1905, his employees were frequently required to turn their talents to acting.
May was promptly chosen to play the starring role of Alice in the 1903 silent film 'Alice in Wonderland', whilst Cecil Hepworth played the Frog Footman and his wife Margaret, the White Rabbit and Queen of Hearts.
The film has become historically important as it is the first in a long line of later film adaptations of Lewis Carroll's 1865 children's book 'Alice's Adventures in Wonderland'. Due to degradation with age and cutting losses, the original twelve minute film now runs for only nine minutes.
A still taken from the film (above) shows Alice (May) trapped in the White Rabbit's house after regaining her normal size. All the interior scenes were shot on a small wooden stage at the studio, with exteriors shot in the lavish gardens of nearby Mount Felix. The film can be viewed online at 'Alice in Wonderland – BFI player'.
Hepworth's 1905 film 'Rescued by Rover' was a phenomenal success with 395 prints sold for worldwide distribution. May played the part of a distraught nursemaid, but the real star of the film was Rover, in reality the Hepworth family dog Blair, who quickly became a household favourite.
In 1907, May married Norman Whitten at St. Mary's Church, Walton. Their marriage certificate shows the professions of both as 'Cinematographers'. May is recorded as having acted in nineteen of Hepworth's films (Ref.1) and remained in his employment until the birth of her first child in 1908. By that time May had become Company Secretary at the studios. In later years, May and her husband Norman established a number of successful companies associated with the film industry, with May as head of business for many of them.
May died on 17th March 1971 aged 86.
Ref.1 – Online 'May Clark – Women Film Pioneers Project'
Ken Battle is a member of the Sunbury & Shepperton Local History Society