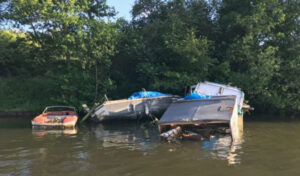 We started in late September, spreading the news with flyers through local letterboxes and by word of mouth. The response was very heartening, and the initial support soon turned into a flood. Then the November Village Matters magazines came out (especially the Molesey one) and we could barely keep up! At the moment (November 10th) we have 260 supporters, most of them resident in either Spelthorne or Elmbridge, all enjoying regular updates and newsletters.
We have made it a priority to build up a good working relationship with the local Environment Agency team based at Shepperton lock, and this has really paid off. The local EA have not enjoyed a great press recently, due to the many perceived abuses of the river, and this has led to a vicious circle in which their time is spent dealing with complaints (which they are duty bound to answer), thus being unable to fully pursue the necessary corrective action, thus leading to more complaints…..etc etc.
We have asked our supporters to make their comments and complaints to RoR2, trusting us to bring them up at our regular meetings with the EA team. So instead of being bombarded by a dozen emails on the same subject, the EA get a couple of minutes face to face with us and have much more time to be out and about on the river!
This is paying off. In mid-October they launched an operation to pick up the sunken wrecks that litter the river, and then in early November commenced a big clean-up operation against the enormous long-term community of illegally moored boats opposite Aquarius Sailing Club, taking abandoned boats away to be crushed and towing away registration offenders.
There is much more work to be done, but already the effect on that piece of riverbank is remarkable.
The problem with the big slumboats remains, but this one will have to be sorted out in the courts – a big legal battle is brewing, but we must be patient in the meanwhile. It is incredible that bookings.com continues to host advertising for the disgusting accommodation, and RoR2 has sent copies of some of the more graphic reviews to the senior caseworker for Dominic Raab. Several RoR2 supporters wrote to bookings.com requesting that they stop advertising this filth on the river, but previous efforts to have the site taken down have come to nothing.
Our thanks to Monica for giving us this opportunity to update our news, and many thanks to all our supporters. If you are not yet one of them you can of course register your support by emailing us at reclaimourriverbank2@gmail.com , and we look forward to hearing from you.