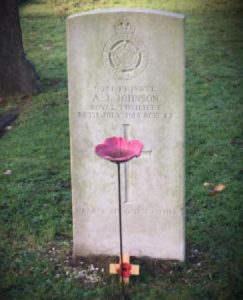 Thank you to Jan Williams who contacted us with the story of her husband's grandfather, Alfred James Johnson. He was a Sunbury man through and through. Baptised, married and buried at St Mary's. His name is on the memorial in Green Street. He was the first soldier from Sunbury and WW1 to be afforded a military funeral.
His body was bought from Guildford where he died in hospital and transferred to a gun carriage for his funeral at St Mary's then onto Sunbury Cemetery where his lies now.
Alfred Johnson was with the 9931 Royal Fusiliers. He landed in France on 12th May 1915, aged only 21. He was shot and gassed at Ypres only a month later and lay unattended in a shell hole for two days until he was found and transported back to the UK, to Guildford, where he died from his wounds aged 22. He lived to hear of the birth of his daughter Mabel who was born in the family home, 17, School Walk, Sunbury.
Alfred Johnson was accorded full military honours at his funeral, as the first fallen soldier from Sunbury, and it was reported in the Middlesex Chronicle.