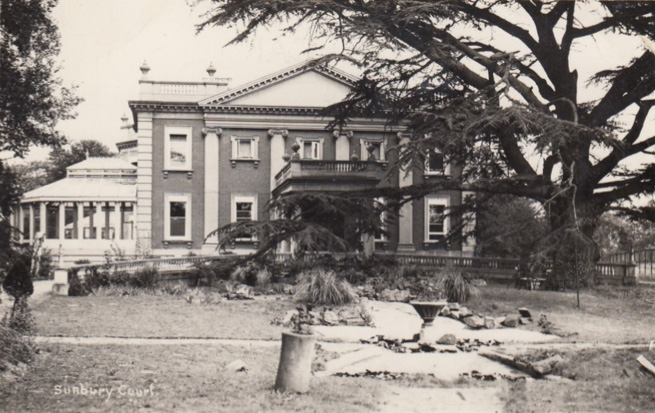 The most impressive house in the village, Sunbury Court was built in 1723 by John Witt. The building stood in extensive grounds of more than 100 acres, which used to extend down to the Thames and included Sunbury Court Island. More than forty staff were employed to run the house and estate. Witt sold up in 1735, and after changing hands in 1751 and 1755 it became the home of heiress Anna Maria Delegard.
In 1764 she married George Fermor, the 2nd Earl of Pomfret, who was a Gentleman of the Bedchamber to King George. Fermor was an extravagant spender who was forced by debts to sell off the sculpture collection of his ancestral home, Easton Neston in Northamptonshire. His spending (presumably of his new wife's money) at Sunbury Court included commissioning the Swedish artist Elias Martin to paint the frescoes of landscapes which still adorn the dining room. He may well also have been responsible for the enlargement of the house with an ornamental pavilion at each corner.
These were apparently demolished after a serious fire during the 1860s, when Jack Needham, 2nd Earl of Kilmorey, occupied the building. Needham was a colourful character who had scandalised Victorian society whilst married and his late 50s, by eloping with his 20 year old ward, Priscilla Hoste. When she died he had an Egyptian style tomb built for her, which he subsequently moved to various homes. He eventually joined her in 1880, and the mausoleum still stands in St. Margaret's Road, Twickenham.
The present side wings were added to the central seven bay south front of the house (facing the river) in the 1890s by a later owner, Colonel William Horatio Harfield. Harfield was commander of the volunteer Middlesex Yeomanry Cavalry, and the adjacent Harfield Road is named after him. After his death, the house became the private Sunbury Court Club, and it is probably during this time in the early 20th century that the photo above was taken.
It shows the house from the west (i.e. the side facing the village), and a large conservatory can be seen to the rear.
In 1925 the house saw a complete change of purpose, as it was purchased by the Salvation Army to serve as their international conference centre. The first Army High Council meeting was held here in 1929 to elect a new General, and ever since the successive leaders of the Salvationists have been chosen here by delegates from all over the world. The house is occasionally open for various events and is well worth a look for its impressive interiors..
The Sunbury and Shepperton Local History Society will have a stand at the ever-popular Sunbury Regatta on Saturday 11th August. Come along and see our display of old photos of the regatta and the riverside area.