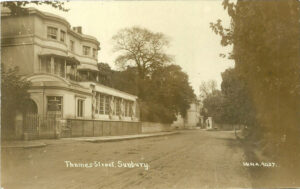 Rivermead House is seen in this attractive postcard of Thames Street, Sunbury, dating from about 1910. The house stood just west of the junction with French Street, facing Rivermead Island across the road.
It was originally named Sunbury Villa when built in 1821 for John Collingridge, and was a typical stuccoed (rendered) Regency house with two curved window bays running the full height of the building. It subsequently acquired a conservatory running the width of the frontage, the roof being supported by four caryatids (sculpted female figures in Classical dress), which led to the house becoming known locally as 'Image House'. Later in the 20th century this extension was removed.
For most of its life the house seems to have been lived in by well-off families, often renting. In 1871 for example, the census recorded Richard Lamb, a JP and landowner, living there with his 3 children and 10 servants. In 1876, Lord Brabazon (who became the 14th Earl of Meath in 1910) took the house for the summer. The property appears to have been owned by the Knight-Bruce family well into the 20th century, however by 1926 an application was made for converting it to industrial use.
In 1950 it was being used as offices, and in 1956 an application was made to convert it to a restaurant and flats. Various other applications were made for its replacement by flats or houses, until in 1972 an application for flats was approved, and another of Sunbury's prominent houses was demolished.
To learn more about the history of Rivermead House, see 'Lost Houses of Sunbury and Shepperton', published by Sunbury and Shepperton Local History Society. The next Society talk is 'Mysteries of Littleton Church' by Will Hardy, at 8pm on Tues 17th April at Halliford School, Russell Road, Shepperton.