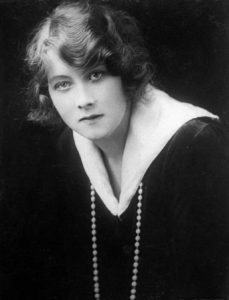 The Sunbury and Shepperton area has been home to many famous actors and actresses over the years, but in her time, none was more famous than the now little-known Alma Taylor.
At the January meeting of the Local History Society, in a fascinating talk by Dr Simon Brown about Cecil Hepworth, the pioneer film maker of Walton on Thames, we heard that Alma Taylor was one of Hepworth's principal stars. Besides being a great innovator in the technical aspects of film making, Hepworth was the first to use publicity to create a 'star system'.
Alma Taylor was born in London on 3rd January 1895, but came to live in Sunbury at the age of one. Her family lived at Sunbury House in Fordbridge Road, home of Major Lendy's Sunbury Military Academy earlier in the 19th century, but which had afterwards been converted into apartments.
She made her screen debut at the age of 11 in the 1907 Hepworth film His Daughter's Voice. Studio publicity claimed that she thought she had been invited to a children's party and was unaware she was taking part in a film, although that seems unlikely. Between 1910 and 1915, she starred with another Hepworth star, Chrissie White, in nearly 20 'Tilly the Tomboy' films, in which the duo caused mayhem in the local community with a series of pranks which usually culminated in a posse of angry people chasing them up the road! These films were incredibly popular and brought both her name and Chrissie White's to the attention of the public. By 1912 she was also taking more serious roles in Hepworth's films, such as Nancy in Oliver Twist.
Thereafter she made several films a year, including further Dickens adaptions such as David Copperfield (1913) and The Old Curiosity Shop (1914). In 1915 she was voted the most popular performer in films by the readers of Pictures and Picturegoers magazine, comfortably beating a certain Charlie Chaplin into second place!
Sadly on the last day of that year, she lost her Sunbury home when Sunbury House was burned down. The central part of the old house was destroyed, although the two wings were saved and subsequently remodelled as blocks of flats. One was later demolished, but the other survives next to Loudwater Close and carries the name of Sunbury House.
Alma Taylor stayed with Hepworth until he went bankrupt in 1927, but thereafter her career declined. She had occasional roles in later films, including Blue Murder at St Trinians (1957 – which embodied so much of the spirit of her Tilly the Tomboy films of over 40 years previously) and A Night to Remember (1958) – in my view still the best of the films about the sinking of the Titanic. She died in London in 1974 at the age of 79.
The next meeting of the Sunbury and Shepperton Local History is the Annual General Meeting, followed by 'Old Photos of Shepperton' by Nick Pollard, on Tuesday 20th February at Halliford School, Russell Road, Shepperton, at 8pm. All welcome.