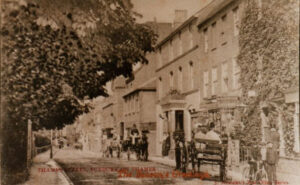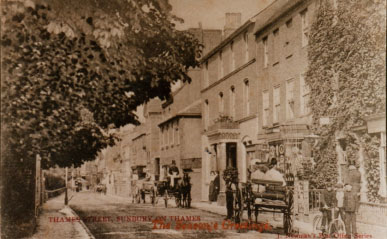 'The Season's Greetings' reads the message printed at the bottom of this postcard of Thames Street and the Magpie hotel, dating from about 1910. Although clearly not a traditional Christmas scene, it was quite common for overprinted postcards to have been used in lieu of Christmas cards at the time. Perhaps this had something to do with the postage being only a half penny for a postcard against a penny for a letter!
The Magpie was first mentioned as a pub in 1729. Nearly 200 years later at the time this postcard was sent, the licensee was Thomas Freeman, who had succeeded his mother Elizabeth in 1905, she in turn had taken over from her husband Frederick in 1894. Frederick had got himself in a spot of bother with the authorities by selling whisky at 33% under proof (i.e. watered down!) and had been fined £1 9s 6d, plus costs of 13s 6d and analyst's fees of 10s 6d. Presumably he lost his job too.
During his time at the pub, the showbusiness charity The Grand Order of Water Rats had been founded at the Magpie, in 1889. The story goes that they gained their odd name from a trotting horse they owned, by the name of Magpie, which upon getting drenched by the rain one day, was likened to a water rat by a passing horse-drawn cab driver. I hope they didn't have their drinks watered down by the landlord too!
To learn more about the history of the Magpie, see 'The History of Sunbury's Pubs', published by Sunbury and Shepperton Local History Society. It would make a good Xmas present! The next Society talk is 'Cecil Hepworth-Pioneer Film Maker' by Dr. Simon Brown , at 8pm on Tues 16th January at Halliford School, Russell Road, Shepperton.