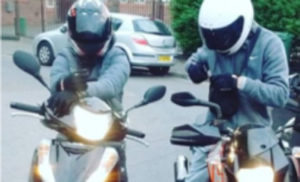 I attended the Community Safer Stronger Partnership meeting in the council chambers last month. We hear about one burglary after another in the area at the moment and antisocial behaviour on the increase. This was a chance to hear what was being done about it and to air concerns to both the police and to the council. I was frankly surprised there were not more of the public there.
In attendance were the Community Safety Team and Inspector Alan Sproston from Surrey Police. We heard presentations on the Safer Stronger Partnership which combines intelligence and resources from Police, Fire & Rescue, Crime Commission and both Spelthorne Borough and Surrey County Councils. This information sharing allows all parties to work more efficiently and tackle crime. They also talked about the Joint Enforcement Teams (JETs) created to build safer communities. 
So far so good!
Inspector Sproston started his own presentation with an overview of his resources (not enough), and an explanation of how the team have to prioritise incidents. The more he talked, the more I felt that they really are stretched very thinly. His slide on priorities for the borough before Christmas almost had me bursting into applause though. The number one priority is tackling scooters in Sunbury (they did not mention the drug dealing as such at this point) The second is tackling burglaries in Spelthorne. They do know what issues are concerning us. Now the question is how they are going to deal with them.
I hear some of you say "weren't we young once? Isn't it just hi jinks? Where are they supposed to go?". I do have some sympathies, but this is about more than that.
I am not a fan of the scooters, but are the problems all down to them? Is the issue the antisocial behaviour, or the drug taking, or drug dealing, or criminal damage, and is it fair to say the latter are all the fault of the scooter riders? There are outsiders coming to the village in cars. The gathering youth are not all local. They are also not all bad but the image we get is of a general bad bunch and that is not good for anyone.
That afternoon I had parked my car outside the shops and walked through Orchard Meadow carpark to the park. I was slightly baffled by the number of spaces available in our usually busy carpark. But it all started making sense. I had been told about youths loitering, a car being vandalised and locals feeling nervous. Sure enough, there was a group of young men, some on scooters. A car with darkened windows was next to them. Was that a drug deal I saw? On the same day I was cut up in my car by a scooter rider, sporting a helmet with ears. "What an idiot. What is his registration plate?
I will report him", only to notice that he didn't have a reg plate anyway! Further up Halliford Road he mounted the pavement as the car in front was turning right. How do we deal with this type of rider if they are faceless and unidentifiable? 'Scooter rider' is becoming a generic term for tearaways and of course they are not all bad. But like it or not, they are all seen as the same and the police are cracking down. Scooters were used to ram raid the post office recently. A scooter gang in London has just been prosecuted and perpetrators jailed for 5 years. Riders beware!
I was surprised to hear at the presentation that instances of antisocial behaviour in the borough have fallen since 2016 (with the exception of Staines). That does not feel correct. I am not alone in feeling that it is on the increase locally. If you feel threatened or witness antisocial behaviour, report it! The police are aware but the more we report it, the more likely we are to see some sort of resolution.
And what of the penalties. Therein lies another problem. Is a fine enough? Do we have resources to take every case to court? Jail? We are struggling with resources. To my mind, these antisocial youth know that they are unlikely to be caught or prosecuted so there does not seem to be enough deterrent.
It was a depressing meeting. The more we heard from residents who had been on the receiving end of intimidating behaviour, the more our collective shoulders sagged.