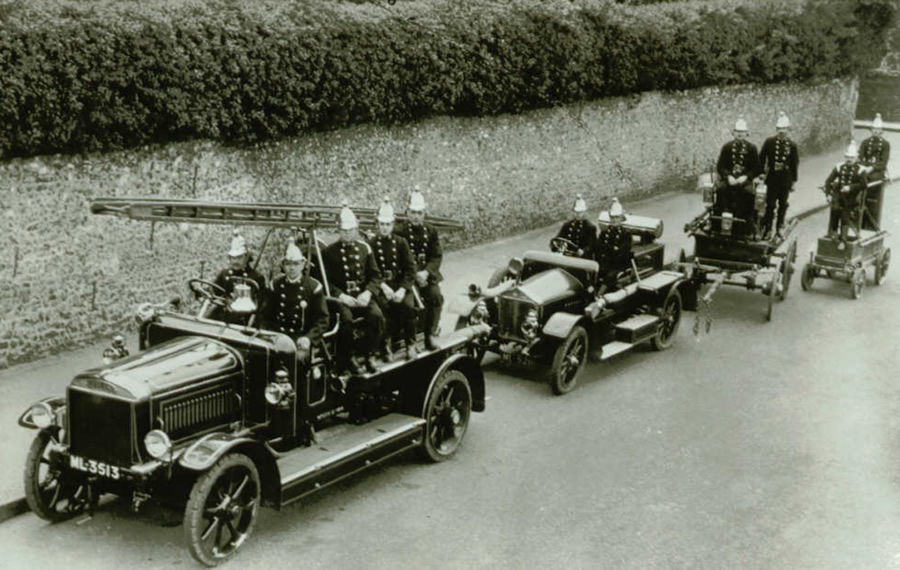 This photo was taken in Thames Street, Sunbury about 1930, in front of the flint wall of the Old Vicarage, just to the west of St. Mary's Church. It shows a fascinating selection of fire engines used in the village over the previous century or so.
First in the line-up is a Leyland motorised fire engine dating from the 1920s, with ladder and open 'Braidwood' bodywork (named after a 19th century Chief of the London Fire Brigade) on which the crew sat on benches on either side of the engine. Even at the maximum speed of 20-25 mph on its solid tyres, hanging onto the engine when cornering must have been interesting! All the fireman are wearing double breasted tunics with brass buttons, and the brass helmet which originated in the 19th century, and lasted until the Second World War.
Very decorative but not very practical. Next in line is a smaller appliance based on a heavy motor car chassis of unknown make. It is carrying hoses and has a small tank on the rear, but it's unclear whether it had its own pump or was additional to the first engine. Behind that is the late 19th century horse drawn engine which used to be housed in a shed behind the Three Fishes pub.
This had a steam powered pump, and similar 'Braidwood' bodywork to the Leyland. Bringing up the rear is an early hand-pumped engine, dating from either the early 19th or possibly late 18th century. It was powered by the crew pumping long wooden handles on each side of the engine up and down. A hose would have been run to any nearby source of water, river, pond etc, and the water discharged onto the fire via a brass spout mounted on top.
Apparently this machine ended its days as a prop at Shepperton Film Studios. What a shame that it, and its horse-drawn successor, having been preserved for so long, did not survive to the present day, although a similar manual engine dating from 1738 may be seen at Spelthorne Museum in Staines.
'Cowper-Coles and Sunbury' is the subject of the next meeting of Sunbury and Shepperton Local History Society. The talk by former ambassador Sir Sherard Cowper-Coles explores his grandfather's innovative engineering business in the village. It takes place on Tuesday 17th October at Halliford School, Russell Road, Shepperton, at 8pm. All welcome, admission £2 to non-members.