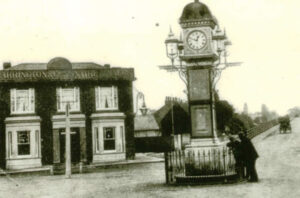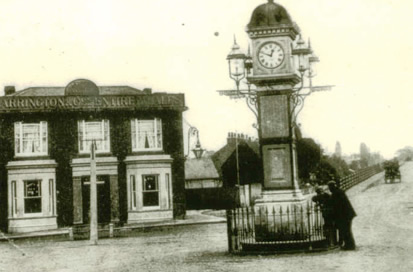 This month sees the 120th anniversary of the installation of the Clock Tower at Sunbury Cross, a well-known local landmark.
It was erected in 1897 to commemorate the Diamond Jubilee of the reign of Queen Victoria. Originally it had signposts and elaborate gas lamps at each corner, but these have sadly long disappeared.
In the finest British tradition, a committee had been formed by St. Saviour's Parish and local councillors, to think of a suitable way that the longest ever reign by a British monarch (only recently surpassed by our present Queen) could be marked. A recreation ground was suggested, but Mr Styles' idea of a memorial clock was felt to be more within local means. The site at the crossroads was agreed with Sunbury Council, and the committee set to work to raise the necessary funds. £172 12s was the total cost, including the late addition of an extra two clock faces, making four in total. This was broken down as: tower £118, clock (by J.W. Benson Ltd of London) £42 12s, foundations etc. £12.
The tower was built of red Mansfield stone, with a Bath stone plinth, and surmounted by a copper dome, to the design of Mr E.J. Shrewsbury of Maidenhead, whilst the building contractor was Mr J. Lamb, of the same town.
On the opening day, the Cross area was decorated with flags and bunting, and the large number of spectators was entertained by the band of the Decorative Arts Works, just down the Hanworth Road. The Vicar of St. Saviour's, Rev W.J. Scott, a member of the memorial committee, gave a speech in which he referred to his parish having taken the lead in Sunbury in organising a Jubilee memorial, and then handed over the key to Mr W. Harris J.P., Chairman of Sunbury Council, before announcing to general enthusiasm that "The clock is now going". Mr Harris, in accepting the key, replied that the clock was not only an ornament, but a work of use; in fact it was the very acme of perfection. He congratulated the committee on their perseverance 'despite the sneers of certain people', and vowed that the Urban District Council would look after the clock as long as there remained an urban authority in Sunbury.
In the age of the motor car, the clock became rather isolated at the centre of the crossroads. By the late 1960s the M3 was being planned, and in 1968, after being damaged by a lorry, it was moved to an ignominious sunken site in the middle of the new Sunbury Cross shopping centre. Happily it was moved to a much more prominent position on the north side of the Cross, and restored in time for its Centenary in 1997.
There is no History Society talk in June, but please visit our stand in the craft tent at the Shepperton Village Fair on June 10th at Manor Park.