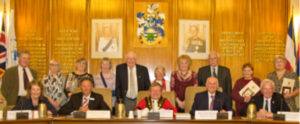 The annual Spelthorne Civic Awards are a chance to recognise those in our communities who have selflessly served and who deserve recognition and thanks. Where would we be without the many unsung heroes who give so much of their time for others. Recipients of this years awards were presented with a shield and certificate at Council Chambers by Mayor Alfred Friday at a special ceremony. Recipients were as follows:
Bert Brooking, 87, has been on the committee of Sunbury and Shepperton Local History Society for over 30 years, and has recently stepped down as Journal Editor after 13 years, having also given up the Treasurer's post last year after a similar period. Bert was also Secretary from 1997 until 2005, as well as handling the sales of publications for many years.
Peter Bailey, 83, is Vice Chairman of Sunbury and Shepperton Local History Society, having served in this post since 1997, but has reluctantly had to step down as Archivist. He previously arranged Society social events such as outings and dinners for many years. Peter has also been actively involved in Shepperton Round Table and then 41 Club for almost 50 years.
Carole Dow was given the award for her work since 1983 with Riverside Youth Theatre, where she has been Chairman several times, designs many of the sets, and has acted as Stage Manager during the productions. Carole was also a founder member of Sunbury Neighbours set up in 1995.This is a group of local people who help older members of the community with shopping, visits to hospital, or just the hairdresser! She is also a Stage Manager for the Spelthorne Drama Festival.
 Ian Dow received the award for over 30 years as technical director with Riverside Youth Theatre. He is able to use his experience working for BBCtv Outside Broadcasts to train the young technical members in lighting and video production. Several of them have gone on to have a career in the entertainment industry. Ian and the RYT Technical Team also provide the technical facilities for events such as Picnic in the Park, Carols in the Meadow, and events at St Mary's Church and Ian is technical director for the Spelthorne Drama Festival.
 "We both feel very proud to have been recognised in this way, but have always enjoyed what we do and get as much out of it as we put in." said Carol Dow.
Julia Gibbs received her award for the volunteering she does at the Spelthorne Museum.
Mavis Duncan was nominated in recognition of her commitment to serving the community for over 20 years as Chairman and Booking Secretary for Laleham Village Hall.
Sheila Barns was recognised for her work at the Greeno Centre.
Linda Dennis and Ruth Manwaring received awards for their unending volunteer work for the Ashford and St Peter's Hospital Foundation Trust.
Richard Hewitt was awarded for his years as chairman of the Shepperton Residents Association.
June Barnard, a previous recipient, was given a special letter of commendation.
The Spelthorne Civic Awards were established in 1982 and are administered by a team of trustees. A Civic Award acknowledges dedicated voluntary effort in the borough by honouring members of the community whom the Trustees believe have by their outstanding endeavour, benefitted members of the community.
Voluntary service is selfless and whilst hugely appreciated, often goes unrecognised publicly. These awards are an opportunity to celebrate what is good in our community and hopefully set an example to others. Look out for information on nominations for the Civic Awards 2018 later this year.