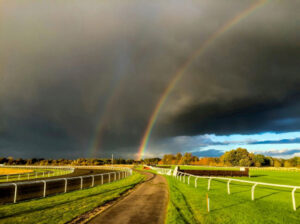 Last month we lamented the building explosion on our door step and the pressure on resources. As we wait to see the 'local plan' which will show the green spaces where development is deemed appropriate, we are aware of several sites identified in Sunbury: Kempton Park of course we know. In addition the scrubland at the end of School Walk, Stratton Road fields and the Vicarage Farm field between Loudwater Road and Tadmor Close.
A glossy brochure had been produced for the latter (photo of the field in all it's glory above), talking of 125 houses and access onto both Halliford Road and the very busy Fordbridge Road. The traffic is bad enough as it is!
Neighbours bordering the field were interested in buying the plot to protect the green space and prevent development. The landowner was agreeable until he had other approaches after the 'call for sites'. Soon after that the glossy brochure from Croudace Homes appeared. He had shaken hands on a deal (perhaps to keep the neighbours happy) but had subsequently reneged on it.
Said field has acted as part of the green space which naturally marks the boundary between Sunbury and Shepperton. It has also been farmed since year 'dot' (see photo on next column). The site is an example of the blurred lines of when is green belt not green belt.
We remain on tenterhooks about Kempton Park too. Several people have told me that it is a done deal.
I like to think that the word of the leader of the council Ian Harvey ("over my dead body") would count for something. Also that the protests from the racing fraternity, amongst them Sir Evelyn de Rothschild (friend to the Queen and legendary horse owner) would carry some weight. The Daily Mail reported the impact of the announcement of the sale of Kempton by the Jockey Club as "open warfare" in the racing community.
Yes, we understand the need to identify sites for new homes, but can we start with looking at brownfield sites and empty homes perhaps.
It seems crazy the Chubb building is still devoid of tenants and the that Crest Nicholson can't sell its' large 5 bed houses so are applying to build more flats instead. Err, wasn't that initial plan for higher density habitation turned down?!
Sign up at www.keepkemptongreen.com