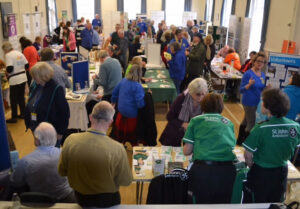 Every two years, the Rotary Club of Shepperton & Sunbury runs an exhibition of local charities which operate within Spelthorne & Surrey. This gives a chance for local people to come and see the charities which can help them and to volunteer their support and for the charities to have the chance to meet each other.
This year, 23 charities met at Shepperton Village Hall on Saturday 11 March. Our 24th charity, Surrey Search & Rescue, had to withdraw at the last minute as they were literally out looking for someone who had disappeared. Outside the Village Hall, we were lucky to have a train model brought in by Hampton & Kempton Waterworks Railway and as well as the boat, Impossible Dream, brought in by Thames Sailability. We particularly wish to thank our sister club, Shepperton Aurora, for all the help they gave us.
Many residents from Shepperton, Sunbury & Halliford visited, as well as the Mayor, Cllr Alfred Friday and his wife, Kay, and other Councillors who talked with the Charities present on that Saturday. We were fortunate in having a large range of charities present: for example, charities offering care and support which included Parkinson's UK Staines Branch, Care in Shepperton, MacMillan Cancer Support, the Samaritans, Spelthorne Dementia Support and Cruse Bereavement Care; Charities which help children including HomeStart Spelthorne, Beanstalk which helps children with their reading, Momentum which supports terminally ill children & their families, Peterson's Fund for Children, Shooting Star Chase Hospice and Queen Mary Sailability which takes disabled children (and adults) out on the water.
Environmental charities included Shepperton Conservation Society, Spelthorne Natural History Society as well as the Shepperton Hedgehog Sanctuary. Sunbury & Shepperton Local History Society were present & the armed forces charity, SSAFA. St John Ambulance was also in attendance with their own stall and to give demonstrations on immediate first aid.
Rotary members were present to set up tables, help throughout the morning and to clear up at the end! They also put 5000 leaflets through doors, with posters on display. Refreshments were on sale and Janet Walker, who organised refreshments, her granddaughter kept stall holders well supplied with teas & coffees. With many thanks to all the charities who participated in the Exhibition Day.
Catherine Black – Rotary Club of Shepperton & Sunbury