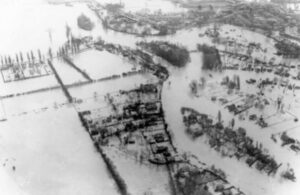 At this time of year, residents who live near the Thames will be remembering the terrible floods of three years ago, which caused such disruption and damage. Exactly 60 years ago, in 1947, our community was facing an even worse challenge.
The winter of 1946-47 was exceptionally harsh, said to be the worst for 300 years, and well above average snowfall was experienced in February. When the thaw came the following month, floods, the like of which had not been seen in living memory, were unleashed across the area.
The photo shows the results in the area around Shepperton Lock, which can just be made out above the centre of the picture, the D-shaped Shepperton Lock Island standing just above the floods, to the right of the lock. Above and to the left D'Oyly Carte Island was also spared, both these islands having been artificially built up using dredged material. It was a different story at Hamhaugh Island, to the right of Lock Island, and at Pharoah's Island, to the bottom right, though. Both were clearly submerged, as was the Towpath area alongside, and the flood waters stretched as far as the eye could see.
The line of poplar trees to the top left mark Ferry Lane, beyond which the Church Square area, being slightly higher, escaped the floods, but was completely cut off from the High Street by the torrents of water. The army had to be brought in with lorries and amphibious DUKWs to ferry residents between areas of dry ground, so that they could attempt to carry on their daily lives.
A new exhibition 'Floods and Freezes' has just opened at Spelthorne Museum in Staines, featuring photos of the many times the Thames has flooded or frozen in the Spelthorne area since the late 19th century. Admission is free, see www.spelthornemuseum.org.uk for opening details. Nick Pollard will be showing a selection of old photos of Sunbury and Shepperton at the Annual General Meeting of the Sunbury and Shepperton Local History Society on Tuesday 21st February at Halliford School, Russell Road, Shepperton, starting at 8pm.