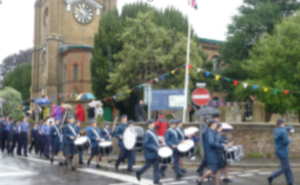 In typical British summertime tradition, when it came to this special event the weather did not cooperate. Again, with true British stoicism, Sunbury residents came out to join in the celebrations to mark the Queen's official 90th birthday on June 12th.
A full day's programme of events had been put together by a band of hard working volunteers.
After a special service at St Mary's with Mayor Alfred Friday in attendance, there was a parade down Green Street, Thames Street and to Orchard Meadow accompanied by the band of 862 (Sunbury) Squadron Air Training Corps. They did a splendid job entertaining crowds who gathered under umbrellas.
At noon a troop of Morris dancers gathered in the churchyard of St Mary's. They seemed to ward off the rain and the skies looked much improved. The dancing was joyous and the setting of the churchyard added to the magic. They performed again at Monksbridge later.
Dennis Brock, the Bell Captain, lead the bell ringing for the Queen at 12.30.
The day also coincided with the annual Open Gardens. Held once a year the Sunbury Open Gardens event allows Sunbury's keen gardeners to share their passion and generate vital funds for various charities. This year they were supporting St Mary's Church  and the Princess Alice Hospice.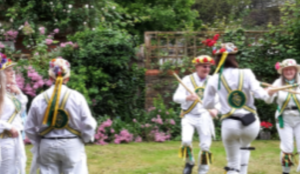 Gardens were open until 5pm and it was great to have the chance to see gardens that I had not been in before. The morning rain had decorated roses and Hostas with droplets of water and they looked even the better for it.  
Huge thanks to those busy people who organised the day so well: Sue March, Pat Crisp and Kath Sanders. Also to the uniformed groups and volunteers, local businesses and individuals who donated raffle prizes, local Spelthorne councillors who made possible the flower display in the church by way of a Better Neighbourhood Grant.
If you are interested or can be persuaded to open your garden in the future please get in touch with Sue on 01932 786675.