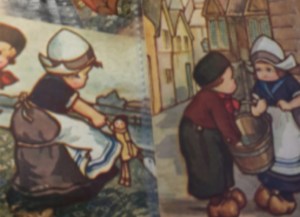 A set of postcards from 1919, sent simply to The Cottage, Littleton, Shepperton have had us delving into the past once again. The Cottage, refers to Astleham Cottage which was originally on Littleton Common, now the site of the Queen Mary Reservoir.
The set of postcards were given to us by local resident Tina Delicata, who picked them up at an antique fair. The cards themselves are of naïve Dutch scenes and all made in and sent from Italy. Signed "Fred" they were addressed to Master Bert or Master Jack Ferris. One is marked "Italian Expeditionary Forces, March 5th 1919". Another says simply "Just a card to let you know that I am coming soon". Was this an elder brother? Who knows but the collection, cards themselves and contents tells us a lot about that era.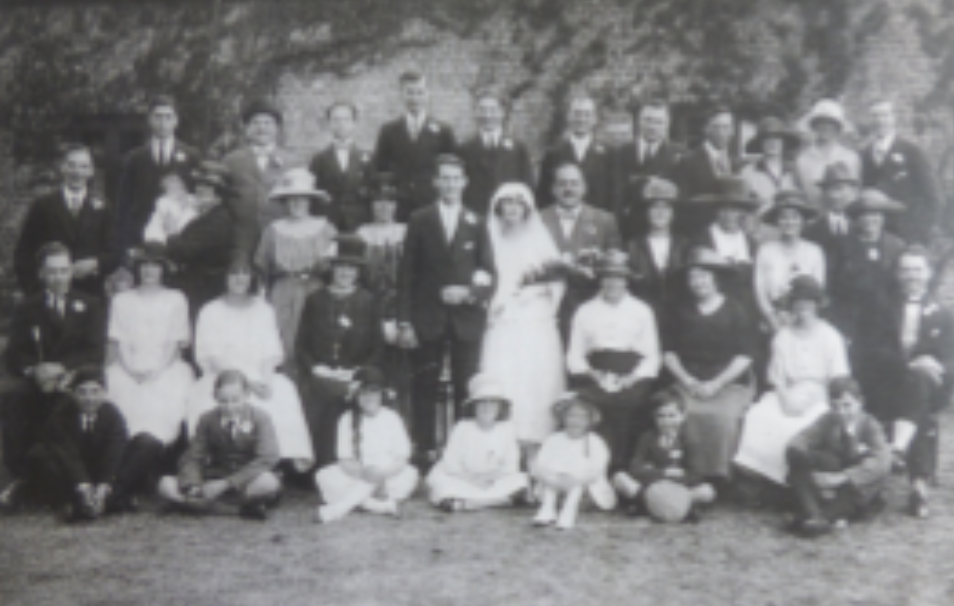 Astleham Cottage was in fact dismantled by Sir Richard Burbidge in 1913 and moved from its original site to a new location about a quarter of a mile south. The cottage would have been right in the middle of the site of the new reservoir, constructed to solve the problem of supplying London's increasing demand for water. (There is no note of the date of reconstruction but it must have been complete by 1917 when Sir Richard Burbidge died. The earliest photo of the completed building is 1922. Maybe until now….This photo is of the Ferris family at a wedding in 1920, courtesy of the Sunbury & Shepperton Local History Society. Amongst the children are surely Jack and Bert and possibly also Fred amongst the adults, newly returned from Italy.
Records suggest that the Ferris family were the first inhabitants of the newly reconstructed house. It is also possible that they were living in it before it was moved. Mr Ferris was in fact Sir Richard Burbidge's game keeper. He died in the 1930's but the Ferris family continued in the cottage until the 1970s. The house gradually fell into disrepair, remaining empty and vandalised over some years.
With gravel extraction about to commence the house was again in the way or progress, but the potential was identified as a new office for the Chiltern Open Air Museum in Buckinghamshire. Under the terms of their lease, they had to have offices in a period building and Astleham fitted the bill. So again it was moved and reconstructed. You can visit it as it stands now and imagine the family life that went on. What a wonderful story these postcards have uncovered.