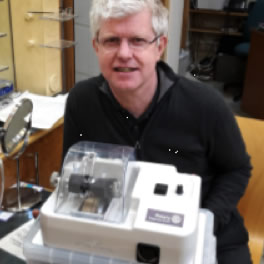 Imagine you are watching TV one evening and it is a strain to see detail. What do you do? In our privileged Western world, you simply call up your local optician, get an appointment and sort some long distance glasses. No problem!
But what if you could not do that? Imagine if these facilities which we take for granted were not an option to you. That is how it is for millions across third world countries. In Congo for example there are simply NO optometrists. We can't even imagine a world like that.
Local optician Ian Squire made it his mission to do his bit to change the lot of some of those in underprivileged societies. In 2003 he launched the charity Mission For Vision. He has always had a love for Africa. As a committed Christian, he felt it was only right that he use his skills to help some of those less fortunate.
He used his network of contacts, many of them missionaries in Africa and launched initially a mobile clinic with machinery, frames and lenses, which would visit rural areas. Word was spread by radio advertising, and hundreds would turn up for an examination and sight correction. It is usual for the mission to treat around 2500 people per week.
One day alone in Uganda however, Ian and his team saw 800 patients. People would come by foot, walking up to 3 days for a chance to get some life changing help. Over the years the work of Mission For Vision has helped around 100,000 to a better quality of life and work. Brigitta, Ian's wife has been very involved in the charity too, joining her husband on many missions.
Ian has himself developed a portable lens cutting machine which works on solar power. This opens up huge potential to help remote communities. He reuses many donated glasses and frames, which he painstakingly reviews at his HQ in Shepperton, sorting them for strength and ensuring suitability.
Through a local contact Ian has made an agreement with London Heathrow to take all glasses and sunglasses handed into lost property. (You can buy sunglasses in Ian Squire Opticians for only £5 and all the proceeds goes back into Mission for Vision.) Ian receives around 10,000 pairs of glasses a year through this channel alone. Locals also donate unwanted specs. You will shortly be able to donate yours through a specially built unit in Budgen's, which is to be made as a collaboration by Men in Sheds and the Rotary Club.
What a wonderful example of community spirit. The Rotary Club has been immensely supportive in terms of fund raising too and the portable lens cutting machine bears their logo.
Mission for Vision is self funding. They have put money into training locals to make diagnoses and to cut lenses, ensuring affordable eye care for even the most needy.
If you want to find out more or make a donation then visit the website for updates: www.missionforvision.org.uk