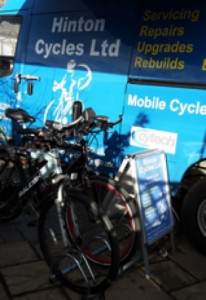 One of my dear friends had suggested I join her for a charity bike ride in March to raise money for the British Heart Foundation. 40 miles with my old bike seemed like an impossible challenge. I was toying with investing in a new bike when I met husband and wife team Dave and Gwenda, who have recently started a mobile cycle servicing and repairs business.
They turned up at my house with the Hinton Cycles van – their workshop on wheels. They have on board every tool and spare part you could possibly need. Dave used to run a bike shop so has lots of experience across all sorts of bikes. He is also fully qualified in road and mountain bike repairs and servicing to Cytech Level 3. But Dave offers something more than just qualifications. Something priceless; Honesty and Integrity.
He will appraise a bike and give an honest opinion about what it needs. It may just be a service. In my case there were lots of options to make a huge difference to the bikes performance, including putting an extension to my handlebars to alleviate my cramped riding position which I had always found problematic.
Dave will not take on a job if he does not feel the bike is worth doing. But, he tells me, just because a bike is old, does not mean it is not well built. You should not be a hurry to get rid of an oldie. He recently serviced a 50 year old Moulton and a Dawes Galaxy from the 1980's, both still good, solid, serviceable bikes which will last for many more years. "We talk about cycling as 'Green', but if you are truly green you need to keep your bike going and improve on it, not just change it for something more modern", says Dave. I get that point, so will not be changing my bike after all, and have no excuse not to do that charity bike ride now!
While I watched Dave stripping my bike down like a surgeon, Gwenda made coffee. Yes, the van even has an oven and hob. (It is apparently not beyond the realms of imagination to be served a slice of pizza!)
Services on offer from Hinton Cycles include safety checks (ideally annually by the way), repairs, punctures, general overhaul and rebuilds. Dave has worked on bikes worth £50 to those worth £15,000. He tells me he built a wheel for a top end road bike recently worth £1000. Hinton Cycles also offer Doctor Bike days for schools and businesses, where you bring your bike for a once over and get a 'prescription' of suggested maintenance/repairs. This is a free service. If you want Hinton Cycles to do the work then they can do it in situ or collect and return.
These guys are hard working and passionate, offering an excellent service. At the time of year when you start thinking of getting out on two wheels, why not get your bike checked over? Hinton Cycles are happy to come to you.
www.hintoncycles.co.uk
Tel 0800 0439200
info@hintoncycles.co.uk