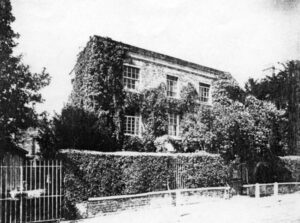 Charles Dickens, who knew the Sunbury and Shepperton area well, was the man who popularised the idea of the Christmas Ghost Story, in the mid nineteenth century. Whilst looking through old Christmas editions of the Middlesex Chronicle at Spelthorne Museum in Staines, I came across the following story of ghostly goings-on at Battlecrease Hall in Shepperton in the edition for 27th December 1946.
Battlecrease Hall is a substantial Georgian three-storyed brick building standing in Russell Road, Shepperton, looking out across Lower Halliford Green. It has long had a 'spooky' reputation, my mother recalled running whenever she had to pass it on her way to her home nearby in the 1920s. The article in the paper says that it was requisitioned 8 months previously by Sunbury Council for housing and split into apartments. The families included Mr Joseph James, his wife and their one year old son David, and Mr Walter Munro, his wife Sheila and 7 months old daughter Daphne.
The incidents all happened on the first floor of the house. Mr James described how "I was sitting in the armchair by the fireside when I suddenly felt bumping about at the back of the chair. Suddenly it shot forward, with me in it, towards the fire. The chair actually moved about 18 inches and my wife, who was sitting opposite, asked me what I was doing. Even the baby, who was sitting on the floor beside my wife, laughed!"
Mrs James also reported an alarming incident: "I happened to look into the mirror, and was surprised to see a large letter S in the middle of it. It was as though the back had gone and I could see right through the mirror. I called my husband but by the time he came into the room the S had vanished".
Showing a commendably stiff upper lip, Mr James commented "I shall not be worried unless the Thing starts throwing things at us!".
In a room across the old draughty landing, Mrs Munro added to the mystery of Battlecrease Hall when she described strange knocks on her door. Each time she answered the knocks, there was no-one there. Distinctly heard but never seen feet that ascended and descended the old wooden stairs outside her room also worried Mrs Munro. "I have heard them on several occasions, but always when I look out the door there is no-one on the stairs'.
I hope your own Christmas is peaceful and undisturbed!
The next public meeting of the Sunbury and Shepperton Local History Society will be in the New Year, on Tuesday 19th January, when John Charlton will be speaking about the Mitchinson family in Sunbury, the main landowners in the village in the late 19th century and at one time owners of Benwell House in Green Street. The talk takes place at Halliford School in Russell Road, Shepperton, and starts at 8pm. All welcome, admission £2 for non-members of SSLHS.