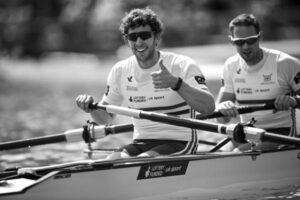 It feels great to be able to call myself a Double World Champion.
This year started badly with a large chunk of my winter spent in rehab after a long spell of illness and injures that put me a long way behind my competition. Winning the Gold last year was a treasured memory, it kept my head up and gave me the focus to keep pushing forward "I've done it before, I can do it again".
I find heats the most stressful race of a regatta, especially if you are racing unknowns. You have no idea how fast another crew is until the race has started.We won the heat by a comfortable margin and moved straight to the final, skipping the semi. Before the final I was confident that we could achieve our goal but I was nervous as I also knew the only thing that could stop me achieving my goal was myself.
In the final we took a small lead moving through the first marker and continued to extend our lead as the race unfolded towards the finish. We won the Gold by 6 seconds and laid to rest all the little demons that had been haunting me through out the season.
Winning didn't really sink in until I was standing on the podium listen to the national anthem with the Gold around my neck.
Next year is the Rio Olympics and I'm excited to see what I can accomplish with a good winters training behind me!
By Mat Tarrant
Twitter: @matthewtarrant