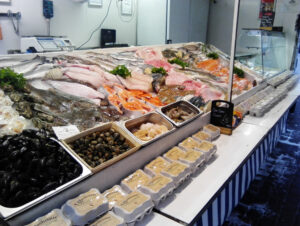 Andrew Clarke is a Fishmonger ……., sorry a Quality Fishmonger, from Suffolk. I know that because I have his business card in front of me which tells me that he started his business in 1996 and that in addition to Aldeburgh and Hoddesdon, he also comes down to Staines market. You may know him, and if you like good quality fish at good prices you really should visit him on Wednesdays, as do I and an increasingly large coterie of loyal repeat customers.
For Andrew, Wednesdays start at about 1.30 a.m (believe me, there really is such a time) when he gets up and sets off in his van loaded with locally landed fresh fish, calling first at Billingsgate for more supplies before arriving in Staines between 5.00 and 6.00 a.m. to set-up the stall and start preparing the orders. Half a days work done and most of us still fast asleep!. Retail customers start arriving from about 8.30 and then at about 9.00 his assistant, the one and only Jak arrives to help (once met, never forgotten!).
As an aside, although born in Dublin, Jak is a Shepperton girl – Dial House in Russell Road is where she lived in her early years. Remember The Riviera Club – then talk to Jak. Anyway, enough about Jak for now, (she could fill a whole edition of Village Matters on her own), back to Andrew.
The fish stall then starts to get busier, and often a bit of a queue develops. It may sound strange, but provided my carparking isn't about to expire, I quite like being in the queue. I like observing an expert going about his trade. I like listening to the conversation which goes on with each customer, hearing what they are ordering and why, listening to Andrew explain whatever needs be explained about the fish, and then watching him clean, skin, head, tail, fillet the fish as requested by customers. I like observing just how many customers are regulars, which reinforces my view that this is a good place to buy fish.
By midday, things are quieter, and by 1.00 or so Andrew starts clearing up ready to leave at 2.00. This should see him home between 6.00 and 7.00 traffic permitting but, the working day has not yet ended. The van still needs be emptied, unsold fish refrigerated etc etc. The full working day is probably some 18+ hours which is ……… long.
As a regular customer of yours, all I can say to you Andrew is "Thank You"
P.S Top Tip 1. Now summer is over, go for the fish pies. Lots of fish, excellent taste, excellent value
P.P.S Top Tip 2 Want to impress friends /family? Take your own ovenproof dish to Andrew one week and ask for a bespoke fishpie for the next week. Everybody will think you made it yourself.