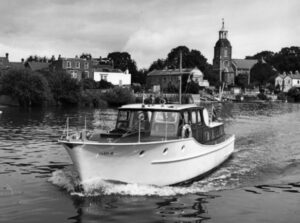 A chapter in the history of Sunbury's riverside ended recently, with the closure of the long-established boatyard of George Wilson & Sons. The company was one of the longest established businesses in Sunbury, having being founded by George Wilson in 1907, when he acquired the Ferry House at Church Wharf from the Stroud family.
The business descended to his sons George Frederick (Fred) and Ken, then to his grandson Gordon, and eventually to his great-grandson Brian. Besides operating a ferry across to the Surrey bank of the Thames, and hiring out boats to the public, the firm soon began to build boats. At first punts and skiffs were constructed, but in time larger and more sophisticated craft were both designed and built by the yard. Premises were leased on Sunbury Lock Island, opposite the Ferry House, from the Thames Conservancy (now the Environment Agency) and slipways and ancillary buildings constructed.
A large order for naval lifeboats during the Second World War led to an expansion both of the premises and the staff employed. After the War, the company carried on building naval craft, especially for use by the Sea Cadets, but also constructing pleasure craft to its own designs to cater for the increasing demand for cruisers.
They also built work boats, including some for other countries, such as Gambia. In the late 1950s, Wilson's began a partnership with the Dutch company Akerboom, taking their steel hulls and fitting them out. By the mid-1970s the rising popularity of low-maintenance fibreglass craft saw Wilson's stop building, and the business concentrated on maintaining wooden boats for private owners, together with hiring out moorings and its own fleet of launches and punts for pleasure and fishing.
With the closure of the business, the Ferry House has been sold, and the site on the Lock Island returned to the Environment Agency. I am delighted to say however, that Brian Wilson has very kindly donated many items of documentation and various artefacts to Spelthorne Museum, so the history of George Wilson & Sons will live on.
St. Mary's Church, Sunbury, will be the subject of the opening talk in the Sunbury & Shepperton Local History Society's 2015-16 season. The talk by Nick Pollard will take place on Tuesday 15th September at Sunbury Sports Association, Lower Hampton Road, Sunbury and commence at 8pm. All welcome, £2 for non-members of SSLHS.