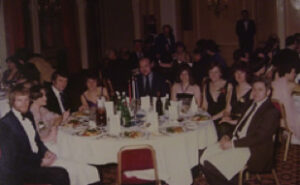 In the early sixties young women usually gave up work and stayed at home to care for their children. This meant that they relied on the friends they made at the baby clinic. At that time a group of young mothers led by Mary Temple started to meet in each other's houses. This group soon outgrew their homes, so the Scout Hut in Wood Road was hired and this enabled many other young mothers to join.
Speakers were hired and activities organised to make life a little more interesting for them. A drama group was formed and produced many shows for their families to enjoy.
Dances were held several times a year. The most memorable of these was at The Cafe Royal in London when two coaches packed with members and their husbands were taken to enjoy a five course banquet. The membership grew to one hundred and had people on a waiting list, so the group moved to the St John Fisher Catholic church hall in Squires Road where they stayed for over forty years. Entertainment came to the hall – such as Irish and Scottish dancers and a Morris group too where members joined in under instruction.
Regular events such a Candlelight Supper were held at the hall. There was also the Mystery meal when the ladies chose their menu but boarded a coach with no idea where they would be eating it. This proved very popular and many wonderful meals were enjoyed. It was a challenge to find a different venue to make sure it would be a true Mystery Meal.
At the AGM held in November 2014 it was decided that the club would have to close due to low membership and the inability to form a new committee. After a vote, it was decided that the money left in the club funds would pay for a final lunch. This was held at The Stanwell Hotel on February 9th and celebrated the 53rd birthday of The Shepperton Venture Group.
This name was chosen so that the young mothers could "venture out" of their homes once in a while. The remainder of the money left in the club bank account is to be donated to three local charities.
The brass bell used to call members to order and inscribed with the name of our founder – Mary Temple, has been handed over to be treasured by her two daughters.
All the club photo albums and memorabilia held for many years will be looked after safely by the Local History Society in their archives having been sorted by committee members who met recently to do this. So for the remaining 32 members this really is is the End of an Era.