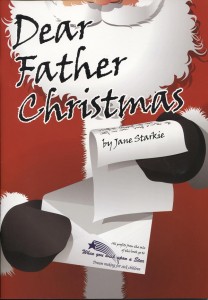 The Art of Letter Writing is not dead after all. It seems that Santa receives an estimated 550,000 letters each year, sent to Lapland of course. Do your children still write letters to Santa?
Local resident Hannah Starkie wrote to Santa from a very early age. Initially helped by mum Jane, (until her own handwriting was more legible) she and her siblings all wrote annual letters to Santa.
When Father Christmas used to visit the Starkie household to look at the letters left in the chimney from Abbie,
Hannah and Ben, he always left these letters behind. Recently rediscovered by chance, they have been reproduced (with Santa's permission) in a book which vividly illustrates the hopes and aspirations of children during the closing years of the 20th century.
Spanning the years 1982 to 1997, we find colourful and handwritten requests for gifts ranging from toothbrushes and felt-tip pens, to a motor bike, a windmill, and a "very rude joke book about girls". No doubt Father Christmas did his best to please wherever possible! Over the course of the years the letters show the youngsters growing up and their tastes and personalities developing.
Ben asks for helicopters, a fire engine, police cars…and always penguins and Chelsea kit! Of course Ben became a policeman, his favourite animal is still a penguin and you guessed right – he still supports Chelsea!
Hannah asks for gerbils, a puppy, a cage for her gerbils – today she is a veterinary nurse!
The letters take us back to the pop stars of the era: Jason and Kylie, Don McLean, New Kids on the Block.
As the children get older, requests for money go up from a £5 note to £20, and lists start to include make up, deodorant even beer!
This attractively-produced book provides an entertaining and unusual insight into childhood and Christmas customs in Britain during a period of extraordinary social and technological changes. For many it will be like a trip down memory lane, remembering trends in toys. It will also provide a reminder of the magic of Christmas, when a child's belief in the fairy story epitomised the innocence of childhood.
In this digital age, this book is a great reason to encourage children to write and is an example to parents why it is important to keep all your childrens letters. This link with the past is priceless.
Available from Waterstones in The Heart, Walton on Thames. Also online at www.thefamilyhistorypartnership.com or call 01706 825557. Priced £5.99.
All profits from the sale of this book will be donated to the charity When You Wish upon a Star, who for the past 18 years have been making wishes come true for seriously-ill children across the United Kingdom.