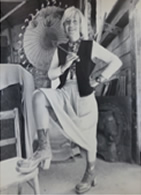 You may remember reading that last year Sunbury Matters donated an original painting to local charity Their Future Today (featured on the front cover of April Sunbury Matters). This was auctioned at a fund raising dinner at the end of the year and raised £550. Everyone was delighted and the money will go a long way to supporting families and children in Sri Lanka.
We had heard stories of what must have been one of the first charity fund raising auctions which happened in Sunbury itself in the 1970's. Some of you may in fact remember it. 
The Sunbury Art Group had been looking for a home for their exhibitions. It had become nomadic when the rotting floorboards in the old meeting room of the Flower Pot (now the car park) became too risky for all the trampling feet of visitors. They used the Salvation Army HQ and Sunbury Library, as well as Flower Pot Green for their open air exhibitions. But they needed somewhere permanent. That is when the old factory on Thames Street, behind the bank, became available and a plan was hatched! The council was approached and was amenable to the idea of putting in place a permanent Arts Centre to house various local groups. The issue was then how to raise the £30k needed to refurbish it. Back in 1975 this was a phenomenal amount of money.
Everyone came up with lots of ideas. A steering group of enthusiastic members included Eric Champion, Basil Cognet and Tom Williams. Alan Hume designed a T-shirt and they were sold for £2. The idea of selling bricks for £5 was suggested by another member. Exhibitions of work by the group added to the funds too.
Lying awake in bed one night, member Daphne Clement thought of a novel idea.. Why not ask celebrities to chip in. Rather than just ask for a donation though, why not get them to donate something of their own that could be sold. So she set about writing begging letters – not such a common thing in those days. The results were amazing: Margaret Thatcher sent an ashtray. As if to match it, Harold Wilson sent an old tobacco pouch, complete with some tobacco and pipe cleaners! Edward Heath donated a tie.
Not stopping at the House of Commons, Daphne wrote to various pop stars. She hit on the idea of dropping a note to Elton John, c/o Watford Football Club which he then owned. His team won on the weekend he opened the letter so he was in generous spirit, donating a pair of his 1970's platform boots! 
Each item had a signed tag from the owner, guaranteeing authenticity. There were some 200 articles in the auction and they raised £1,048. Elton's boots went for the bargain of only £17…to think what you could get on Ebay for them today!
The whole exercise was a great example of a group of people working together to make it happen. It may not have been Live Aid, but it was an original idea and our Riverside Arts Centre is there for us to enjoy now very much because of the efforts of these individuals.