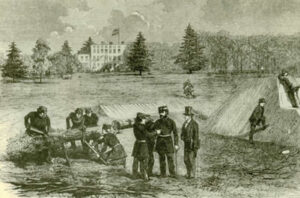 Sunbury House was a large building standing in spacious grounds between Fordbridge and Halliford Roads. It was leased in 1855 by the Bishop family, who had owned it since 1789, to Captain Auguste Frederic Lendy, a French officer, who, with the assistance of the exiled French Royal family (living nearby in Twickenham) founded a military academy.
If the concept of a private military academy sounds strange today, this was a period when military commissions were still bought and sold, and training of officers in the army itself was quite rudimentary, so these establishments existed to teach students the necessary skills before taking up their posts.
Lendy himself was clearly an expert on the art of military fortification, publishing a book on the subject in 1857.
The Comte de Paris (heir to the French throne) and the Duc de Chartres both graduated from the college, as did their sons, Louis Philippe and Henri. Queen Victoria had given sanctuary to the Orleans family after the revolution of 1848, and often visited Sunbury House when there were there. Another notable student was Capt. Evelyn Wood (later Field Marshal Sir Evelyn Wood VC) who trained there before entering Staff College in 1861.
The Practical Military College flourished for many years. Capt Lendy was recorded in the 1861 census as having 3 professors and 16 students, with 14 servants. In 1871 there were 11 pupils, and in 1881 (when Lendy was listed as a retired Major), 14.
The two sons of Capt. Lendy unfortunately died whilst on military service in Africa, and are commemorated on the Lendy memorial, which now takes pride of place in the centre of the Walled Garden in Sunbury village. It was originally sited by the river next to St. Mary's church, but was demolished by a bomb in 1940.
By 1890 Major General Grant Blunt was in charge of the college, with 10 students, aged 16-20 (the focus had obviously changed with the ending of the purchase of commissions in 1871), but by 1902 the building had become flats. On New Years Eve 1915 the house was largely destroyed by fire, with only the two outer wings surviving. One of these was later demolished, the remaining wing is now called Sunbury House.
The next meeting of the Sunbury and Shepperton Local History Society is on Tues. 19th November at Halliford School, Russell Rd, Shepperton. The subject will be Thomas Wakley, a controversial medical reformer who combined the post of Coroner for Middlesex with founding 'The Lancet'. All welcome, £2 non-members.