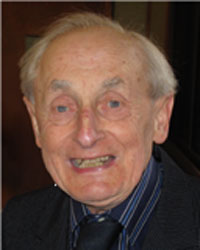 I met Noel Franklin-Taylor just over a year ago. We were both being presented with Pride of Spelthorne certificates. 
But I already knew of him. Many of you in Shepperton would.
Noel had lived in Broadlands Avenue since moving there with his Mother in 1964 from Wembley Park where his father had run a music school from 1928. His father died in 1955. Noel and his mother continued to run the school until a road widening scheme resulted in the loss of both their home and business. Noel remained in the family home at Shepperton for the rest of his life. He never married.
I knew him as a long serving Samaritan – 53 years of service in fact. The Samaritans were like a family to Noel and he was the constant thread in their existence, seeing many changes to needs of callers, venue, technology and admin. He viewed himself as just a cog in a machine, not as anything special.
Noel was also involved in Care in Shepperton, the Stroke Club from 1993 and helped setting up the Christmas event at the Greeno every year. He was a volunteer tutor at Brooklands College Weybridge's Adult Literacy Class from 1995 to 2008.
He received a Civic Award for services to the community from Spelthorne Borough Council in 2013. Even when Noel was ill in his last year, he was keen to recover so he could get back to his duties.
His family was musical. His grandfather worked for Broadwood Pianos, and was a talented player and conducted their orchestra. His uncle, Franklin Taylor, was the organist at Lichfield Cathedral. His father Basil had been a professional Tenor before the first world war and played both piano and violin. He later established the music school, so naturally Noel was brought into the world of classical music.
Both he and his sister played violin although his sister admitted that Noel played better than she did. Noel bequeathed his 19th century violin to the Royal College of Music so his legacy lives on.
He was initially home schooled and then educated at St. Georges School, Harpenden, a co-educational school founded on Christian principals and much ahead of its time.
In 1945 he was called up to the army and that took him to India and Burma where he served in 1947, the year of independence. He was demobilised in 1948.
There followed a spell in the London Office of the British Council after which several years with a city insurance company and in whose orchestra he played the violin giving regular concerts at the Royal Festival Hall. At this time he was a part time student at the Guildhall School of Music. When he moved to Shepperton in 1964 he found a job with the British Aircraft Corporation where he worked on such aircraft as the BAC111, the VC10 and Concorde at Weybridge and at Kingston. He worked there until he retired in 1991.
His hobbies and interests were wide. He was a gliding instructor, a yoga instructor, held a diploma in public speaking and was a member of the poetry group in Shepperton. We understand from one of his nephews that Noel was a great story teller, frequently entertaining colleagues at office parties.
He was a generous benefactor to charities including some lesser well known ones such as Ferret Rescue! Indeed he has left a large part of his estate to charity.
Noel had a lifelong love of cycling and you may well have found yourself behind him in your car at some point as he frequently slowed down the traffic. Friend and fellow poetry group member, Carole Boyd sent a recorded message and poem reading to his funeral (as she was recording on the day of the funeral). She talked of Noel hailing her from his bicycle one day in Shepperton. It was 2016 and he jauntily asked if she would be prepared to speak at his funeral. " Of course" said Carole "what date do you have in mind? I will check my diary" to which they both collapsed with laughter.
Noel loved laughter, conversation and friendship but he remained a private man to the last. Even his family discovered things about him when sorting out his affairs after his death, that they did not know.
I am sorry that I did not get to have a cuppa and chat with Noel. The intention had been to run an interview with this special Shepperton man. I probably couldn't have done him justice, but I am sure we would have had a laugh. He came across as warm and interested with a twinkle in his eye and a ready smile.
His funeral was very well attended, with 30 Samaritan colleagues, many friends and relatives in attendance.
Rest in peace Noel, after a life well lived.