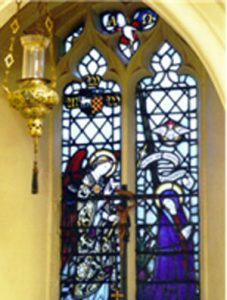 Just around the corner from Shepperton Studios is the beautiful church of St Mary Magdalene, Littleton. It was founded in 1135, and still retains its medieval walls and other ancient features, one of the oldest churches for miles around.
What made it the building that it is today? There have been many stages, but one of the most important was between the 1890s and the 1940s, during the time that the "Gothic Revival" came to Littleton. Stained glass windows were installed, a mighty pipe organ was acquired (no longer there), and other furnishings were added, inspired by the church's medieval past.
Some lively characters helped to make this happen. There was the Rev. William Manners Wood, the vicar for forty years between 1893 and 1933. Twice widowed, married three times, and the father of six children, he was often to be found gardening in the churchyard.
There was Sir Richard Burbidge, the managing director of Harrods, who lived in the red-brick mansion that is now at the heart of the film studios. Active in providing medical care for wounded soldiers during the First World War, he was also a donor to Littleton Church.
There was the local artist Amy Bouwens, who designed stained glass windows for the chancel. She was part of the Bouwens family, who lived for many years in the Old Manor House nearby.
Finally, after the Rev. Wood's passing, the leading church designer Martin Travers brought the process to a completion, which included further stained glass windows, and a "rood" or cross above a rood loft. He was still continuing with this work in the 1940s, despite the falling of bombs during the Second World War.
In some of the windows at Littleton, there is the phrase "To the Glory of God", which conveys well the inspiration behind all of this activity.
Last Summer, a group of us at church put on a history talk, To the Glory of God: Littleton Church between the 1890s and the 1940s, with a slide show and four speakers, Sue Dean, Mari Smith, my brother Robert Hardy and myself. It will come back for another performance at Littleton Church on Saturday 8 February, at 2.30 pm so that there is daylight to see the windows. It is free with a voluntary collection for church funds.
I'll give a different version of the talk at Halliford School for the Sunbury and Shepperton Local History Society, on Tuesday 21 April at 8 pm. Whether you know Littleton Church of old, or have never been there before, you are most welcome to come!
by Will Hardy