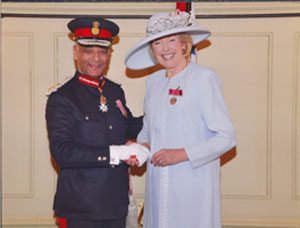 Shepperton's Green Goddess, Diana Moran had quite a month at the end of last year. She received not one, but two major awards for her work, both presented the same week!
Pictured right, Diana is seen receiving the British Empire Medal from the Lord Lieutenant of London. The pretty outfit and hat were bought from the Princess Alice Hospice shop in Shepperton for the princely sum of £43. We love that! You look a million dollars Diana!. Diana is well remembered for leading the catwalk at the Princess Alice bridal show at Shepperton Studios a couple of years back.
Diana's second award was from the Women of 
Influence 2019 for her contribution to the nations health. Diana is an inspiration to many of us. She continues to be an influential commentator on fitness and wellbeing and her enthusiasm, health and grace are enviable.
Huge congratulations Diana!