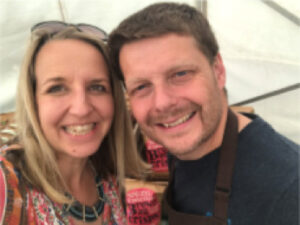 When Phil and Viv Lambe heard that they had, in their absence, won Spelthorne's Best Exporter award they were delighted. They had not been able to attend the event in person because of family commitments. When they heard they had also won Spelthorne Business of the Year they were totally gob smacked!
Started from a kitchen on an island in Shepperton in 2010, Brown Bag Crisps is now an international success. The premium snack is the crisp of choice for those wanting to have something just a little more special with their glass of something. Word is spreading and the crisps are now exported worldwide. You will find them in China, UAE, Norway, Denmark, Germany, Italy and so the list goes on. You may also find them in
premium airlines and trains. Even Harrods stock them!
Like many who are caught in the rat trap, Phil decided in 2010 that he had had enough of working for other people, enduring a long commute and all the hassles of corporate life. He and Viv were sitting in Italy by Lake Garda contemplating life and when asked the question "well what do you want to do?" by Viv, Phil had no hesitation answering "I want to make crisps". So the story begins.
It was very much a family affair to start with. Phil was frying up all manner of crisps in his quest to find the perfect crunchy snack. He tried different types of potato, different oils, different flavours. The house smelled…of oil and crisps! But it was worth persevering. His crisps proved popular and the brown bags they were sold in were quirky. Initially he relocated to a shed in the garden before finally taking the plunge and setting up a more commercial enterprise. Family members were involved in painting floors in paint which satisfied food standards and manning the fryers 24/7.
Fast forward and it was clear that Brown Bag Crisps were going to be a great success, but how could Phil and Viv keep up with demand? Reluctantly, they outsourced, but it was a good decision. They are now keeping up with demand and the product is consistently good.
There are constantly new challenges. When envelopes were delivered containing empty crisp packets, they got the message. The company realised they have a responsibility to help eradicate single use plastics.
Their solution is the offer the public a FREEPOST service so that bags can be dealt with on mass.
Dealing with the expanding waist line of the public is another concern so Brown Bag Crisps is going to be introducing a whole new range of vegan and gluten free snacks in 2019. With a 'Better for You. Better for the Planet' ethos, the new range does not yet have a name. COULD YOU HELP FIND ONE? If your name for the new range is selected, you will be rewarded with a years supply of crisps!
This is a local company, based in Shepperton, employing local people (Karen, Sam and Claire, you are apparently wonderful!). Brown Bag Crisps now want to harness the creativity of the community so get thinking.
Follow this amazing company on Facebook, Twitter or Instagram @brownbagcrisps.
Or check out the website: www.brownbagcrisps.co.uk