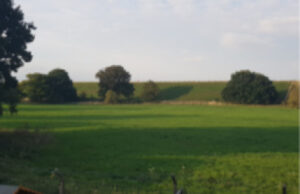 Needless to say our article last month about preserving greenbelt provoked comment. Even if residents and residents associations were supportive of the development proposed on the old Bugle Nurseries site, the council was adamant that this was green belt so could not be touched.
The fact it is a complete mess of dumped waste still needs to be addressed but there is hope. We were delighted to hear that Spelthorne Council successfully prosecution a similar 'dumping site' on the greenbelt land at the end of Thames Meadow.
The council had been battling for over 3 years with the land owner (see photo below). The council states; "We are very pleased that the courts have consistently ruled in our favour over this case. We take the protection of Green Belt very seriously and will actively pursue those who deliberately flout the rules."
That sounds like good news to us!
But the threat to greenbelt continues to concern residents. We were contacted by a lady whose house overlooks a beautiful stretch of greenbelt land which is also under threat. The plot in question is part of the proposed Shepperton Studios expansion. Here it is in all it's natural glory, a haven for wildlife.
This is not an unsightly waste site. It is a lush green area.
The new Shepperton Studios expansion plan is proposing to build a car park and 'circular road' on this site. The resident told us "They plan to tarmac over this field to create additional parking for the 10% of the time when the studios are at full capacity (they have informed residents that most of the time this car park will be closed).
To urbanise green belt land for the use of an 'occasional' car park seems utterly irresponsible. The 'circular road' will run directly behind our houses. This will not only impact the land, but impacts residents who had chosen their properties precisely NOT to look out over a busy road.
But if this plan of green belt land published on www.troyplanning.com is anything to go by, then the land concerned (see blue line) is indeed green belt. And if the planning department at Spelthorne Council is not allowing development on greenbelt, then residents surely have nothing to fear. We cannot set a precedent and develop greenbelt land. All those in authority seem to be in agreement.
The problem is the caveat "only in very special circumstances" which leaves the development of greenbelt a dangerous possibility. Pinewood's expansion plans were turned down by South Buckinghamshire District Council precisely because of the impact it would have on greenbelt. That decision was overturned by the then Home Secretary, Eric Pickles.