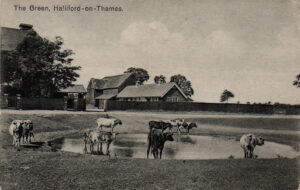 The recent incursion by travellers onto Lower Halliford Green, circumventing the defences put around it by Spelthorne Council, prompted me to look out this photo taken in more peaceful times. It's from a postcard sent not long before the First World War erupted, and shows a perfect pastoral scene, with cows in and around one of two ponds which used to be on the green, either side of the small access trackway which bisects it.
The ponds were dewponds, i.e. not fed by any watercourse, and may well have dried up in hot summers such as that we have just experienced. By the 1930s they had disappeared from maps of the area.
The cows are from Duppa's Farm, the buildings of which can be seen in the background beyond Russell Road, which runs along the edge of the green. This was primarily a dairy farm, the cows being grazed in the many open fields round about, now occupied by Thamesmead School and housing developments such as Gordon Road and Lindsay Drive. The farm buildings were demolished in the 1960s, after which the site lay empty for a while as it was on the route of the projected Shepperton Eastern bypass. After the abandonment of this scheme, the Duppa's Village housing development was built here in the 1980s.
The name of Duppa, which is also attached to the park behind the green, derives from its ownership by the Duppa Charities, originally founded in the 17th century by Brian Duppa, successively Bishop of Chichester, Salisbury and Winchester. He was also tutor to the sons of King Charles I, including the future King Charles II. The land he owned at Halliford was an endowment for almshouses at Richmond.
The name of the green itself is explained by it originally being part of the manor of Halliford rather than Shepperton, which was centred on the Church Square. Halliford manor had two settlements, Upper and Lower, the latter being concentrated along the Thames The old Halliford Manor House stands among trees to the east of the green.
'The History of London Irish RFC' by Nigel Scott starts off the new season of meetings of the Sunbury and Shepperton Local History Society. The meeting takes place on Tuesday 18th September at Sunbury Methodist Church in Staines Road East, starting at 8pm. All welcome, admission £2 for non-members.