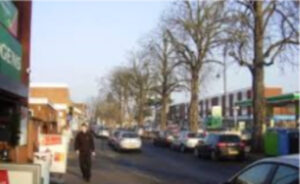 You may have seen in the local paper recently, a piece by Vice Chair of the Shepperton Residents Association Carl Phillips, prompted by the announcement of NatWest closing, our last bank in Shepperton. Carl shares those thoughts on the second half of this page.
The closure must make us think about our own shopping habits in this digital age. The NatWest branch is closing because people are tending to move to online banking. We live in a busy society where gratification of all sorts is at the click of a mouse; shopping, banking, chatting, booking a holiday, ordering currency for it. We could orchestrate our lives from a sofa if we chose. But what an impact this has.
Do we take our high street for granted? Maybe that little order for £3.50 on Amazon won't make any difference to the home store. But on the other hand, if all of us think that way, that is a whole lot of little orders which are not going to go into the tills of our local shop. The same is true of so many of the services on the high street. Without all of us making a choice to buy from the small independents our friendly shop keepers will be squeezed out. We hear of business rates and rents increasing. Brexit has had an effect on exchange rates so goods are costing more. It is now that we need to act and to keep shopping local.
Monica Chard, Editor
 
With the impending October closure of the National Westminster Bank in the High Street, Shepperton will have lost both its banks in a short period of time. Luckily, we do have an excellent post office that can continue to carry out some of those banking functions for many people.
However, the loss of the banks does jeopardise the future of the traders and other businesses in the High Street. The "footfall" – numbers of people using the High Street – is likely to drop.
We must not allow this to happen…
… when I say WE, I mean All of Us – Residents of Shepperton must make a point of using the High Street even more to prevent this from happening.
Shepperton High Street also attracts shoppers from other surrounding areas such as Sunbury, Chertsey, Ashford …. even Staines, particularly on a Saturday morning. They know and appreciate the value of an active High Street. Long may that continue.
We, in Shepperton, are very lucky to have such a variety of shops in our High Street – two excellent butchers, two greengrocers, a bakery, a flower shop, and a local pharmacy. We have a card shop, a car accessory shop and a fantastic hardware store – an ironmongers no less!
With two excellent local supermarkets, it means we lack for nothing in terms of people's needs. That also includes the buzz of social chit-chat in the street when people bump into friends and neighbours as they go about their shopping.
This socialising and activity is vital to the energy and life of the village. The High Street is the centre, the veritable heart. It is also where the Library and the Village Hall are.
We must all take on the responsibility of shopping there, to continue to support our local traders and ensure the High Street remains the success it always has been.
Shepperton residents need to do this more – or we could lose something to which many communities could only aspire. The responsibility for preserving this hub of shopping and socialising lies with all residents. SUPPORT YOUR LOCAL HIGH STREET !
 
Carl, Phillips, Shepperton Residents Association