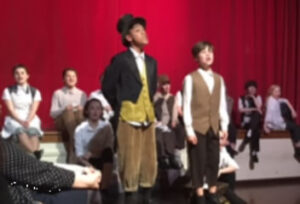 Shepperton and Sunbury are both immortalised in Dickens' tale of 'Oliver Twist' as poor Oliver is coerced into helping Bill Sykes commit a robbery in Chertsey. There has in fact just been another hit in Shepperton involving said Oliver. Shepperton Matters was invited along to one of the performances and had a thoroughly enjoyable evening.
There has always been a tradition of fabulous musical events at Thamesmead School, but it has been many years since a full musical production has taken place. It was worth the wait! Over two nights a wonderful cast demonstrated their singing, dancing and acting talent in a production of 'Oliver the Musical.' Directed by Kathy Haines-Bevan (Subject Leader for Drama) this very popular musical was thoroughly enjoyed by a full-house on both nights.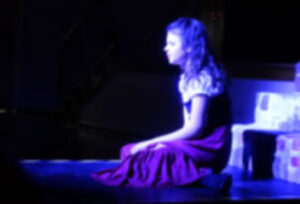 The students had been rehearsing for several months and the quality of singing, choreography and acting was outstanding.
Beautiful haunting renditions of 'Where is Love?' and 'As Long As He Needs Me' were sung respectively by Oscar Gilbert (Oliver) and Amelia Alexander (Nancy). The crafty character of Fagin was captured brilliantly by Oliver Cubillos, and Tate Foxhall played a wicked Bill Sykes. A rousing rendition of 'Consider Yourself' was led by a cheeky Artful Dodger played by Brook Gibson. It was clear that the students enjoyed the production every bit as much as the audience.
Thamesmead School offers 20 places per year on a music or drama based aptitude workshop. The students clearly demonstrated the talent that this encourages in this show. Other performance related events include the Summer Soiree, Acoustic Concerts and Songstar.