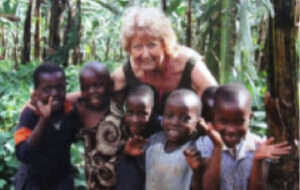 Many of us have returned to normal life after the holiday period now. But for one local resident, the travel bug never left her and lead to a calling to better the lives of a local community in Uganda.
Ann McCarthy loves travelling. This passion probably came about as she and her family returned from Australia, where they had gone as some of the last £10 Poms in 1970. After two years Paul, Ann and the children took the cheaper and longer way home, by boat. It took 6 weeks and stopped off at a dozen or so places on the way back, allowing the family to have a day to explore. Ann never looked back.
Her enterprising spirit resulted in many years of backpacking, independently or on supported tours, taking her from South America to Africa and many places in between. Her four children have also inherited the gene for exploration and adventure, all of them having achieved Duke of Edinburgh Gold Award and in fact being awarded at the same ceremony—a first for four siblings.
In 2004 Ann was in Africa, travelling to see the mountain gorillas. She passed through a small village in Uganda called Ruhanga and saw for herself the need for schooling for children. Education is only available to children from the age of 7 and for the first two years it only amounts to five half days per week. Ann felt she wanted to do something to help. She teamed up with local Denis Aheirwe and between them they set up the Ruhanga Development School.
Starting the enterprise in 2008 with only 10 nursery age pupils and only very basic facilities, the school now has over 500 and a staff of 30. They offer children the chance to have a better future at an affordable price. Schooling is in English. Now there are boarding facilities and the school admits children from 3 years old up to Primary 7. Children really want to learn.
I myself travelled in Africa and while I was there I visited a school in Malawi which was little more than a mud hut. Children sat on the floor, listening intently to their teacher, such is the respect for learning.
Ruhanga has now got classrooms, two dormitories, a medical centre, and fresh clean water. This has all been possible thanks to donations and fund raising efforts. The centre runs a volunteer programme where visitors can stay from two weeks to several months. The set up allows a supportive environment but in a rural area that many people may not otherwise visit. Visitors can help out with lessons, or use practical skills such as painting, building, carpentry etc to support the project.
While they are there they have the chance to go on safari, or even to make the journey to see the mountain gorillas. Everything can be arranged. Volunteers only need to pay their ticket over and a modest daily fee for bed and board. Ann McCarthy is the facilitator in the UK. She is actually going over in October so if anyone wants to visit, she will be there herself.
If you feel you would like to get involved somehow, but are not so keen or able to travel to Uganda, Ann urgently needs admin help in the UK. She could do with some help from anyone who has experience of applying for grants or fund raising, but also running social media and the website updating.
I have not mentioned until now that Ann is now in her 75th year! It is quite incredible what energy and passion she has, but she could do with more help from some younger volunteers.
See http://ugandalodge.com for more info or email: ann@ugandalodge.com