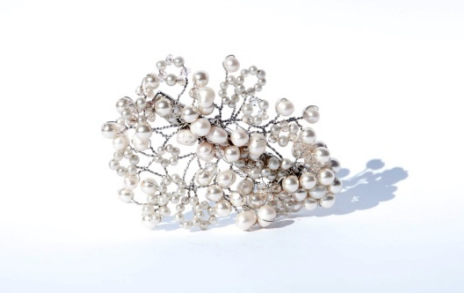 Shepperton's Sue Brown loves pretty things. She has a background in hair and fashion, so in her later years has turned her skills to designing and making hair embellishments, mainly for the wedding market, under the brand name Heidi Kench. Each of her pieces is hand made to suit the bride and her outfit.
Sue often uses vintage jewellery as a starting point, then using fine wire she will build up a glorious piece incorporating freshwater pearls, crystals and beads. She is often asked by a bride-to-be to create a piece using old family jewellery, to bring together the old and new as the wedding saying goes.
"I believe each piece should be as individual as the bride herself and complement the dress so that the whole look comes together".
Sue also sources vintage pieces from charity shops and antique fairs such as Kempton Park. She has had commissions from the USA as well, with one bride-to-be sending over her grandmothers vintage jewellery to be incorporated into a hair comb.
Sue uses not only combs, but also crocodile clips, which anchor much more securely on the head. Her hair bands are all covered to make sure they don't slip and are comfortable to wear. Sue kindly let me try a couple of exquisite items while I visited her at her home where she works. Despite me coming in jeans and a fleece they still looked stunning on me!
Her pieces are for sale via the British craft website www.folksy.com and also through select wedding shops such as The Dress in Teddington. Prices start at £45.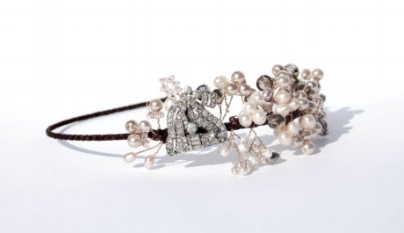 A recent cooperation with Leah Durrant hair salon in Chertsey is proving a successful venture. The resulting styling and photography shows the pieces off to their best and we are delighted to feature one of the shots on this month's front cover.
Perhaps this has inspired you to dig out some of that old jewellery you have hidden in a box. Why not have it turned into a fashion statement and bring it into the modern day?