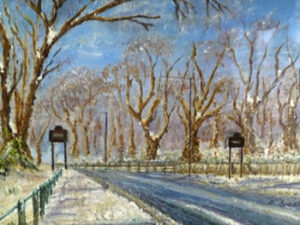 On February 19th our Mayor Robin Sider will be formally opening a memorial to Shepperton Life as depicted by Shepperton Artists, which will be exhibited in The Greeno Centre in perpetuity. The idea was to represent Shepperton landmarks and icons, as seen through the eyes of local artists.
Robin will be hanging the first picture himself. There will also be a self portrait by Peggy Pickering on show, to mark her long service, having started Shepperton Artists in 1985. She holds classes in The Greeno Centre every week, as well as two other venues locally.
There are 16 works in total donated by the artists for the permanent exhibition. The images are wide ranging, and include Desborough Sailing Club, the Raft Race, St Nicholas Church, Shepperton Lock, the war memorial, the Old School House, Halliford School, Church Square and Church Road in the snow, which can be seen on the cover of this months issue.
There is even an image of the old town crier who many of you may remember as a regular fixture of local events. Even Budgens gets a look in, as very much seen as the centre of Shepperton comings and goings.
The collection is designed to encapsulate scenes and monuments for future generations. Shepperton Matters would like to thank Shepperton Artists for allowing us to use images both here and on various covers of the magazines.