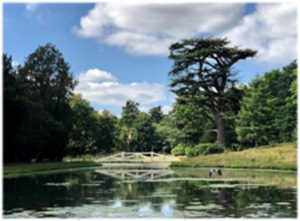 Mr C and I have memberships of lots of local attractions: RHS Wisley, Brooklands Museum and Hampton Court Palace to name but a few. But the most recently acquired membership is proving one of the most popular. Painshill Park, which is on the outskirts of Cobham, is an 18th century landscape garden which was created between 1738 and 1773 by the Hon. Charles Hamilton who had returned from his Grand Tour of Europe bursting with inspiration from renaissance art and history. This 158-acre garden has something for everyone and makes a great day out.
A lake is surrounded by picturesque follies, a Roman temple, even a crystal grotto. There is a vineyard, an icehouse and even a Turkish tent, all inspired by overseas travels. Charles Hamilton's ambitions, however, exceeded his funding, and he was forced to sell the estate in 1773. Painshill was held by a series of private owners over two centuries and ultimately fell into dereliction. Painshill Park Trust, a registered charity, was formed in 1981 to restore the landscape garden, now Grade 1 listed.
Painshill has undergone significant restoration in recent years. The Visitor Centre, which was opened in 2001, welcomes around 100,000 visitors every year. Painshill currently has over 2,000 members and is supported by over 100 volunteers. In 2011, Painshill received The Queen's Award for Voluntary Service. The wonderful volunteers have also just been further recognised, winning the best volunteer led experience at the annual visitor experience forum.
The Painshill Education Centre provides lifelong learning to over 11,000 school children and adults each year. School activities are tailored to the National Curriculum and the landscape gardens enable the education department to offer unique activities that span a variety of subjects including history, science, geography and ecology.
Finally, I must mention one of the reasons we visit so often. You are allowed to take dogs in with you, so can enjoy a spectacular walk with your four-legged friend (on a lead of course), followed by a coffee and cake at one of two venues on site, the gothic tower or the visitor centre.
TICKET OFFER. 2 FOR 1 ENTRY PRICE IN OCTOBER AND NOVEMBER WHEN YOU SHOW THIS PAGE AT THE TICKET DESK (excludes 26th October -2nd November)
Portsmouth Road
Cobham
Surrey
KT11 1JE
01932 868113 
info@painshill.co.uk