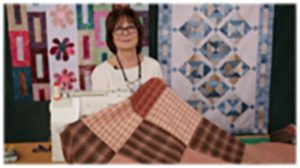 This October marks the 30th anniversary of a certain business in Bridge Road Molesey.
Creative Quilting was founded on October 28th, 1989. Starting with about 5 bolts of brown fabrics. Things have changed somewhat since then and now the shop shelves are full of vivid colours and inspirational projects.
Last month, I enjoyed a very inspirational coffee with founder, Valerie Nesbitt. It's rare nowadays for an independent business to thrive for so long. Today's commercial climate is not easy to navigate. However, I noticed from my first sip of cappuccino, that the sheer enthusiasm and dedication that Valerie possesses has clearly helped her through.
Her passion was ignited at an early age. Valerie's mother had always encouraged her and at school she also learnt dressmaking. However, it was while living in Oxfordshire a neighbour introduced Valerie to patchwork and the dream took off. After she moved with her husband, the idea of opening a shop became a must. So, in 1989 Valerie took the lease on premises at 3 Bridge Road, where 'Dish' now stands. After an initial issue with the landlord Valerie bought the whole site and Creative Quilting was on its way. The business grew and in 2000 moved to the current address at number 32, previously an antique shop.
Valerie loves passing on her joy of patchwork and quilting. Selling the fabric is not enough, an attitude that has clearly helped. Valerie and the team at Creative Quilting are all addicted quilters, who love passing on their skills. The shop now has different areas to accommodate all from beginners to experts. You can turn up and just sew, turn up and sew with help, or sign up for project based formal tuition.
There are also free demonstrations, workshops clubs and groups. Take a look at the Autumn
classes on offer at: http://www.creativequilting.co.uk/contents/en-uk/d750.html
One thing it is not, is intimidating. With the love for teaching that Valerie has, you will be in safe hands.
Valerie is also very keen on recycling and upcycling. Bring in your old materials and the team will help; quilts, cushions, table runners, place mats and wall hangings are all possibilities. With Christmas coming up, perhaps now is the time to start thinking about that exclusive, individual and bespoke present. If you don't have a machine, no problem. Valerie and her team have all you need. Valerie tells me that a cushion can be made in just a few hours!
Creative Quilting is also very part of the community and has a strong link with charity work. As Valerie puts it herself "it is not necessarily all about the end product"
Patchwork and Quilting can be therapeutic. It can help you to slow down. It's social and it also can be a remarkable stress buster. It's also about enjoyment.
Pop in and have a chat. The team will always help.