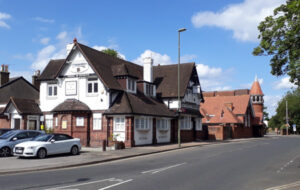 The Plough stood at the Walton end of Ashley Road, next door to the building that is now The Hub but was once Walton Infants School and later Walton Library. The first reference to an inn called the Plough is in 1778 when it was left in the will of a local brewer, William Brooker, to a Walton coach maker, Elisha Lane, and a maltster of Hampton Wick, Henry Marsh. It was sold by them to another local brewer, Thomas Cooper.
The inn occupied a pair of 18th Century cottages situated where, at that time, the edge of the village bordered Walton Common and was a copyhold property of the Manor of Walton-on-Thames (the manor house of which was the still existing 'Old Manor House' in Manor Road). In 1828 William Farnell of the Farnell brewing family bought the Plough, and it remained in family ownership for many years. They acquired the freehold in 1870.
The building featured as a village inn in one of Walton film pioneer Cecil Hepworth's early silent films entitled 'The Race for the Farmer's Cup', which was released in June 1909.
In 1928 the inn was demolished and replaced by a new building in the Arts and Crafts style but was still operating as The Plough. In 1985 it was renamed 'The Last Viceroy' but changed back to The Plough before becoming an Italian restaurant. Although the 1928 building still stands, it is currently under threat of demolition to make way for a block of flats.
References: Inns and Taverns of Walton and Weybridge; A.G.Martin. Walton and Weybridge Local History Society 1999. A Window on Walton-on-Thames; J.L.& D.M.Barker,1994. Photos; The Plough c.1905, private collection. The 1928 Plough building, June 2019, by the author.
John C Pulford