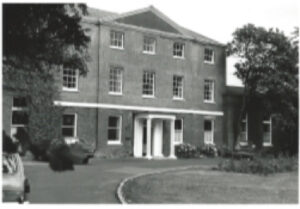 Of all the significant country estates that once bordered the town of Walton, namely Ashley Park, Mount Felix, Apps Court, The Grove and Elm Grove, the only surviving estate mansion is the classical red-brick Georgian house still known as Elm Grove.
The building stands on the east side of Hersham Road near its junction with the High Street and its estate ran from there back towards Sidney Road with an access drive into Church Street.
The house was built in the late 18th Century by an architect called George Shakespeare who lived in the house until he died in 1797. Inherited by his niece Mary North and her husband Richard, the estate was described in 1817 as having a coach house, cart house and stables, a kitchen garden, cherry garden, a deer paddock and two fields. By 1839 the house had passed to their son William who was to be the first curate of Hersham.
A colourful moment in the history of the house was when, in the summer of 1894, the Crown Prince Nicholas of Russia stayed at Elm Grove while visiting his fiancé Princess Alexandra of Hesse. The house was then being leased to Prince Louis of Battenberg and Princess Victoria of Hesse who was Alexandra's elder sister, grand-daughter of Queen Victoria and grandmother of the present Duke of Edinburgh. Nicholas wrote to his mother that he was "delighted by this only too short stay in Walton", and that they were "out all day long in beautiful summer weather boating up and down the river picnicking on shore for tea". Three months later the Crown Prince became Nicholas II, the ill- fated last of Tsar of Russia.
In 1921 the Elm Grove estate was purchased by Walton Urban District Council, the house used as a council chamber and offices, and the grounds laid out as a public park and recreation ground. The coach house and outbuildings were used as a fire station. The council moved to a new town hall in New Zealand Avenue in 1966 but Elm Grove continued in local authority hands, housing Walton Magistrates' Court, and is now leased to Stagecoach Performing Arts School. Some fine original trees still stand on the front lawn.
References: A Short History of Walton-on-Thames. Michael Blackman, Walton and Weybridge Local History Society, 1989. Walton Past, Bryan Ellis, Phillimore; 2002.
Photos: Tsar Nicholas II and Alexandra. Elm Grove in 1979 by J.C. Pulford.