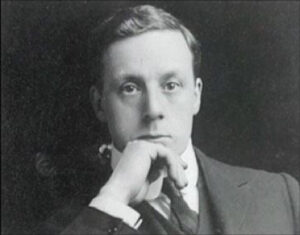 We turn the clock back to the 1890s. The film industry was in its infancy, with the Lumière brothers making the first public screening of 'moving pictures' in France in 1895. A young man called Cecil Hepworth was working in film processing, and he decided to set up his own film processing company.
In 1899 he happened by chance to come to Walton, and he rented a house in Hurst Grove to set up his business. But the film processing work never really came, so he turned his hand to making his own films instead.
As with other film-makers, the early films that he made were mainly very short and simple records of local events, such as a cycling race or express trains crossing in a cutting. His first major success was a film of the funeral of Queen Victoria in 1901. These films were a great novelty and very popular, typically being shown as side-shows at fairs.
This early success encouraged Cecil Hepworth to build a studio in his back garden in Hurst Grove. It was one of the first film studios in the UK.
A breakthrough came in 1905 with a six-minute film 'Rescued by Rover', which was a huge popular success, making the dog Rover into the first British movie star, and creating a new cinematic style which we still recognise today.
By 1911 the Hepworth Studios took up most of Hurst Grove, employing around 100 directors, actors and technicians in the production of hundreds of films each year, many of which were made on or around the streets of Walton. Walking through the village (as it then was), there was a good chance that you would come across actors in costume and make-up. And many people living in Walton were used as film extras.
Cecil Hepworth was a real innovator. In 1912 his 'Oliver Twist' was the first full-length feature film made in the UK. He pioneered sound in cinema with his own Vivaphone system, two decades before the 'talkies' arrived. He created the 'star system' long before Hollywood, and in 1915 his leading actress Alma Taylor was voted the most popular film star in Britain, comfortably beating Charlie Chaplin into second place. His films were successful in the USA as well as in the UK.
During World War One he made propaganda films as well as conventional films. After the war he continued with some success, although his style was starting to appear rather old-fashioned.
However, he was better at film-making than at business, and an over-ambitious expansion plan led to bankruptcy in 1924. The studios were sold and went through various stages of ownership until they eventually closed in the 1960s. When the site of the studios was redeveloped, a new road was built across it and named Hepworth Way in his memory.
He continued to work in the industry for the remainder of his life. Shortly before his death in 1953 he was named as one of the first six BAFTA Fellows, along with Sir Laurence Olivier and others – a fitting tribute to a truly great film pioneer.
Dr Simon Brown of Kingston University will be giving a talk on The development of the film industry in Walton on Tuesday 22 January at 7.45 pm at Ashley School in Walton. Further details are given in the Events Coming Up page.
By Tim Williams