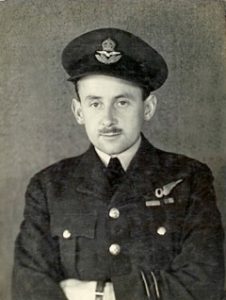 As we mark the centenary of the Royal Air Force, it seems fitting to recall events in the life of Flt.Lt. Dominic Bruce, who once lived at Blakesley Lodge, 2 Green St, Sunbury.
Dominic is the only airman ever to have been awarded both the Air Force Medal (AFM) and the Military Cross (MC).
In 1938, acting as a wireless operator, a huge lightning strike crippled his aircraft and knocked him out. Quickly recovering, he was able to radio a distress message to base before baling out with the rest of the crew. For his courage, he was awarded the AFM, or as he often described it, his 'Away From Mum' medal.
At the outbreak of war in 1939, he was a navigator with No.9 Squadron, RAF. During a sortie over the North Sea on 9th June 1941, his Wellington bomber was shot down by a German Me109. His pilot, W/C Roy Arnold, sacrificed his own life by remaining at the controls of the burning aircraft, allowing the crew of five to bale out. Later on they were rescued from the sea by a German patrol vessel off the coast of Zeebrugge, Belgium.
After capture, Dominic was first imprisoned at Oflag IX-A/H in Spangenburg Castle. In September 1941, he and two companions acting as a 'Swiss Red Cross Commission', were escorted to the castle gates by another POW dressed as a German guard, who then 'allowed them' to walk free. With Luftwaffe tunics under their suits, the trio headed to an airfield at Kassel and attempted to steal a German Ju52, but were discovered trying to start the engines.
After a hasty retreat, they were recaptured ten days later and each was sentenced to 53 days in solitary confinement. Dominic was then sent to Oflag VI-B where, in January 1942, he escaped in a working party but was soon recaptured and given another long confinement in the cells.
He was then transferred to Oflag IV-C at Colditz Castle, which was used for allied officers who had made escape attempts from other German Oflags. On 8th September 1942, Dominic made his famous 'Tea Chest Escape' from Colditz by squeezing himself into a Red Cross tea chest, before it was carried by the guards into an attic store situated high above the German quarters and beside the Castle wall.
After exiting the tea chest that night, Dominic lowered himself down the Castle wall on knotted bed sheets to make his escape. He headed for Danzig (Gdansk) some 350 miles away, hoping to board a freighter bound for Sweden. Unfortunately, he was captured ten days later at Frankfurt-on-Oder but managed to escape whilst still awaiting interrogation. Rough sleeping throughout the journey, he eventually reached Danzig and attended a church Mass there. Later that day, he was recaptured and returned to Colditz Castle where he endured another long period of solitary confinement.
The 'Tea Chest Escape' was re-enacted in the BBC 'Colditz' Series, Season 1, Episode 14 "Gone Away", Part1, shown on the 18th January 1973, with well-known actor David McCallum playing the role of Dominic.
On the 16th April 1945, US troops liberated all the POW's held at Colditz Castle.
Dominic was awarded the Military Cross on 8th October 1946 with his Citation noting his escapes as "about seventeen attempts in all". During later years,
Dominic held numerous executive and advisory positions and was awarded the OBE by Queen Elizabeth II in 1989 for his services to education.
Dominic Bruce died on 12th February 2000 at the age of 84.
Ken Battle is a member of the Sunbury & Shepperton Local History Society.