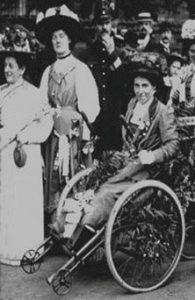 This year marks the centenary of the Representation of the People Act 1918, which gave some women over 30 the right to vote, although women over 21 had to wait until an Act of 1928 to gain the same voting rights as men. Some recent research has shown that Miss Rosa May Billinghurst (usually known as May) was a prominent suffragette who lived at 2 Fordbridge Road, Sunbury, for quite a number of years.
May was born in Lewisham in 1875, but at the age of five contracted polio and for the rest of her life wore leg irons and used crutches or a specially modified hand propelled tricycle for mobility.
Emmeline Pankhurst founded the Women's Social and Political Union (WSPU) in 1903 to follow the militant agenda 'Deeds not Words'. May joined the WSPU in 1907 and soon became actively involved in organising campaign events and public meetings. She quickly became a recognisable public figure, widely known at the 'cripple' or 'tricycle' suffragette, often seen about with her tricycle decked out in purple, white and green WSPU ribbons and 'Votes for Women' banners.
In 1908, May joined a march to the Albert Hall to demand more decisive action from the Government. On the 18th November 1910, a deputation of about 300 women went to the House of Commons where they were met by ranks of police. During a six hour pitched battle, many were brutally assaulted by the police. This day became known as Black Friday and it is believed that two women died later from injuries sustained during the day. May was tipped from her tricycle before being taken down a side street where the police removed the valves from her tyres to leave her stranded. May was arrested later that day and released with a fine.
In 1912, a widespread campaign of smashing shop windows began. May became quite involved as she was able to use her tricycle to convey house bricks concealed beneath her rug, but was arrested on the 12th March and sentenced to an impractical one month's hard labour in Holloway Prison. A new form of protest began in December 1912, when many suffragettes poured black sticky fluids into pillar boxes in order to destroy their contents. May travelled from one pillar box to another with bottles of fluid hidden beneath her rug, but was arrested at a box on the 17th December.
May was tried at the Old Bailey on the 8th January 1913, where the jury found her guilty and she was sentenced to eight months imprisonment. May went on a hunger strike and was force-fed, but during the ordeal her face was injured and a tooth damaged. Following an appeal to the Home Secretary, she was released on the 18th January after serving just ten days. On the 21st May 1914, May made an unsuccessful attempt to chain herself to the railings of Buckingham Palace. On the 4th August 1914, England declared war on Germany. On the 10th August the Government released all the suffragettes who were in prison and the WSPU agreed to end their militant activities to help with the war effort.
In remembrance of May, she is one of just fifty-nine women and men of the suffrage movement, whose names and portraits have been etched on the plinth of a recently unveiled bronze statue in Parliament Square, commemorating Millicent Fawcett who led the earlier National Union of Women's Suffrage Society (NUWSS).
By 1939, May was living at 'Minikor', 2 Fordbridge Road, Sunbury, and remained there until her death in 1953 aged 78.
Ken Battle is a member of the Sunbury and Shepperton Local History Society.