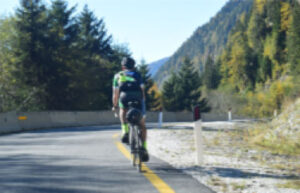 22 year old David Haywood has always relished a challenge. One of 5 siblings, he spent his childhood holidays exploring the outdoors in the Lake District. As a schoolboy he did the 3 Peaks Challenge before taking up various challenges by bike with his brothers; Lands End to John O'Groats, London to Paris in 24 hours. Oh, and he threw in the climb to Everest Base Camp while visiting his sister who was working as a Dr in Nepal. You get the picture! He decided he needed a new challenge. Could beat a Guinness World Record?
David likes to see how far he can push himself and what mental reserves he needs to do so. "Asking questions of what I'm capable of, seeking answers to those questions, and putting myself in situations where I could fail helps me learn, grow and discover more about myself. I wanted to see what I was capable of when I was really pushed." He wanted to find out how the mindset can help or hinder such a physical goal.
In 7 days last October David visited 13 countries in only 7 days by bicycle and having gone through that monumental effort he was only told he had officially succeeded at the record a few weeks ago. Here are the stats: 13 countries, 1070 miles, 155 mile average per day (!), 70,000 feet elevation climbed. All that and the only puncture he had was 100 meters from the train station on the way back to the UK. But he had plenty of adventures along the way.
The GWR places great demands on a contender. David had to do a video recording every hour, also showing mileage on his satnav. He then had to get two witness signatures per country. With a smattering of French, Italian and German he resorted to Google translate to engage with locals, causing much merriment on various occasions when the method proved anything but accurate!
Getting these statements was in fact a blessing in disguise because it forced him to interact with people on route. He found free accommodation on the way via a website called Warmshowers, a community of bike tourists and those who support them.
David is a psychology graduate. He is currently applying to do a med degree and wants to specialise in psychiatry. It interests him to see what makes the mind tick. In facing this challenge he had to be mentally strong as well as physically. Mere mortals would give up the thought of such a feat. David visualised having achieved it. "Which way I view it really depends on how I viewed myself: either I believe I'm capable of achieving, or I don't." he says. Either way, he realised he would learn something about himself. His blog captures so much of this mental preparation and is well worth reading to inspire you to push yourself. "Whether you're taking exams, starting in a new job or creating your own business, the fundamental belief that you're capable of achieving shouldn't waver.
A setback doesn't make me question whether I am capable of doing things, it just forces me to ask questions of how I can do better". David's next challenge will be cycling round the world. 18,000 miles in a year – He almost makes it sound easy! If you can help with sponsorship, David would be happy to hear from you: d.a.haywood@live.co.uk
See an overview of David's journey: https://www.youtube.com/watch?v=uL_ggtomGf0&t=3s
Read David's blog and motivation: https://haywoodexplores.com/most-countries-in-7-days/