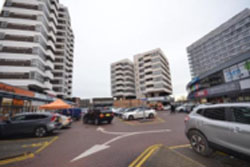 Oh dear! Not a great start to the year for many of you out there who have discovered to your cost that Sunbury Cross is operating a new parking system. The barrier has been broken for weeks so many of you may have happily gone in, done your shopping and gone out without giving a second thought to parking charges. But a new number plate recognition system is in operation, meaning there is no barrier.
You are no longer issued with a ticket to access and leave the car park. What this means is that YOU need to keep an eye on the time if you want to be in and out within the one hour free parking. If you are even one minute over you will be on the receiving end of a £100 fine. YES £100!!! That is a very costly mistake to have innocently made.
We spoke to several shop keepers who are as shocked as everyone else. We also spoke to the centre manager. But it seems matters are out of his hands. This new system is run by the faceless landlords who frankly don't give a damn about the long term and elderly shoppers who are just doing what they have always done.
So, the rules are as follows:
YES you have ONE free hour at the ground floor/access level. If you only need one hour, then that is the place to park.
You have TWO free hours in the multi storey, which has recently had a make over and is now cleaner, lighter and safer.
IF you are going to be longer than either one hour, or two hours, depending on where you have parked, GET A TICKET!!! It is better to be safe than sorry. See above. The notice which is being widely displayed in shops and cafes at the shopping centre is clear in directions but as it is new, many of you are missing it.
We asked the landlord for a comment following the very distressing reports of these exorbitant fines. Their response was rather short on understanding or humanity: "The new parking system is signposted and ensures all customers are treated equally".
In this day and age we should be doing everything to encourage the public to visit shops (as opposed to shopping online). Actions like this from landlords is going to do nothing to encourage local shopping.