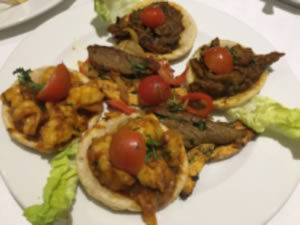 There have been some tasty changes at the Ivory Tusk in Shepperton. The core menu remains the same, with a great selection of mild (including Mr C's favourite Chicken Tikka Masala), medium and hot dishes on offer as well as vegetable side dishes, accompaniments and of course tandoori dishes.
But the chef and manager Musa Rashid have developed some new offerings under their signature range so we went along to try them out. Thankfully I was hungry. I certainly wasn't by the time we had finished!
But we had to begin at the beginning of course. Musa presented us with a variety of starters on a platter, enabling us to taste the Puree Jhinga, Kathe Dosa as well as tandoori chicken and lamb. It was beautifully presented in nice tasty little portions which I loved. Not too much to try, but enough to really give us the chance to savour the dishes.
Our individual plates had little dots of mango chutney and a coriander and tamarind which was a great addition. I absolutely loved the Puree Jhinga, a pungent and spicy dish of king prawns on the lightest little pancake. The prawns were soft and succulent with a comfortable kick of spice.
The Kathe Dosa was deep and rich, with little pieces of tender lamb. The tandoori meats had been well marinated and was served on a bed of tasty fried onions and red peppers. Meats are marinated in yoghurt to make them tender. On the starter menu you will also find salmon and monkfish similarly prepared.
What a good start to the meal!
We opted to sample the new signature dishes for mains. Influences for these new dishes are from the former French colonial area of India – Pondicherry with smatterings of Thai influence in some of the dishes. I chose the popular choice of Crevettes Assadh (see above). This dish of Tiger prawns is served in a rich coconut curry sauce enhanced with green chillies and ginger. Onions enrich the gravy and give added texture. Although 
described as mild, the green chilli is very much on show and I made the mistake (much to Mr C's amusement) of eating a green 'bean' only to find that it was in fact a green chilli! The beer came in handy!
Mr C went for the Murgh Amaya – chicken in a mild creamy sauce of coconut and mango with butter and cream. It was indeed rich, but a great choice. Mr C's all time favourite is the chicken tikka masala as I said, but this was a good alternative.
Musa suggested that we really should try another main to get the idea of the range of dishes so presented us also with a Lamb Bemisaal. This very deep and flavoursome dish is made from mutton which is a mature sheep. It 
certainly does taste different to lamb. Slowly cooked in a spiced tomato gravy the meat fell apart.
We chose tarka dahl to accompany the dishes as well as the most fantastic fluffy naan bread. This really is quality bread, with a crispy bottom and light as a feather. Perfect for dipping into the delicious gravies.
All the food is served very hot and fresh.
We had eaten our fill so sadly couldn't manage a dessert although I was tempted for a moment by the Salted Champagne ice cream on offer…mmm. For another time maybe!
The menu really does offer something for everyone, both in terms of spice, elements and also price. The signature dishes are more expensive than the main menu but with the fabulous offers on food it really is worth 
giving some new dishes a try. You will almost certainly be hooked!
 
The Ivory Tusk, 78 High Street, Shepperton
TW17 9AU
Tel 01932 246993
www.theivorytusk.co.uk